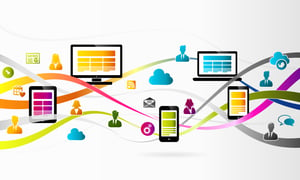 There is a definite art to WiFi design, especially if you're dealing with a high-density network environment. There are a huge number of factors which can affect the performance of a WiFi access point, and those factors have to be balanced for every AP in your network if you're going to have a truly robust and user-friendly wireless setup.
However, that does not mean it's impossible to DIY your WiFi design. Plenty of businesses have successfully implemented WiFi, even across large locations, without having to call in specialist help.
So we've got a few tips to get you started.
Four Ways To Ensure Better WiFi Design
1 - Stick to 5ghz
We don't often say "you need the latest generation," but when it comes to larger WiFi networks, that's pretty much the case. 802.11ac is basically a requirement for high-density wireless environments, because it utilizes the 5ghz radio bands.
First, of course, 5ghz allows for much faster connection speeds than older 2.4ghz APs, and you'll need that speed to have an acceptable network. However, the other issue is that 2.4ghz is an incredibly crowded radio band. That's the same frequency range used by Bluetooth, wireless telephone headsets, and a wide range of other "cordless" devices. So trying to have a working WiFi network on top of all that becomes nearly impossible, due to all the interference.
2 - Survey the area well.
AP placement is the most critical part of WiFi design. You want to put them in places which:
Have clear lines of sight to commonly-used areas

Aren't being blocked by nearby physical objects

Are far away from water sources, such as pipes or aquariums
Additionally, keep in mind that walls (especially brick) and most flooring types significantly degrade signals. You'll definitely need different APs on every floor of your building, and redundancy wherever there are thick walls.
It's also a good idea to do a "reality check" walkaround with a single AP. Pick some good candidate spots for placement, put the AP there, and then walk around the area to see what sort of signal strength you get. Doing this before you commit to placement can save a lot of aggravation later.
3 - Keep SSIDs to a minimum.
To have effective wireless roaming, the same SSID name and configuration needs to be repeated on every access point a user might wander near. The more SSIDs you have, the harder this becomes.
Generally speaking, there's rarely need for more than one business SSID and one guest\visitor SSID. Past that point, simple user permission settings can be used to segregate departments, if you need that sort of security. Trying to implement per-department SSIDs (as we occasionally see people attempt) rarely works out well.
4 - Overestimate your AP purchase.
There are two basic truths to WiFi implementation:
APs

will never achieve the maximum specs claimed on the box, and

No matter how fast\robust the AP is, users will manage to max it out.
When you're trying to calculate your AP purchasing requirements, go ahead and assume your initial estimates are low. Unpredictable real-world factors will inevitably degrade performance, and the users will always surprise you by their ability to use up bandwidth. A few extra APs are rarely a waste of money.
If You Need It, Professional Help Is Here
You may not need professional assistance with your WiFi design, but it can certainly make your life easier! For more tips, or for a professional evaluation of your site along with a detailed site survey, just contact Hummingbird Networks and we'll be happy to help build the perfect WiFi network for your business.