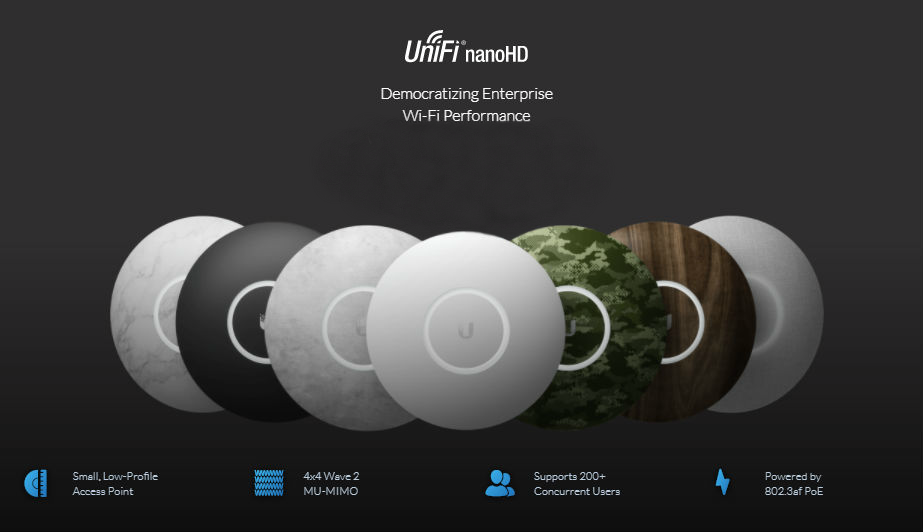 Just a couple of years ago, we were writing about how a relatively new player in the network equipment world was making a big name for themselves. Now, Ubiquiti has become a beloved network equipment brand for many IT Professionals, business owners, and procurement managers because of their low cost and high quality products. The disruption in the market and their rise to fame really is no surprise, since Ubiquiti offers quality enterprise-grade equipment at a fraction of the cost compared to their competition. Even after a couple of years of growth, it's good to see Ubiquiti staying true to their core mission to deliver quality networking equipment at affordable prices to the masses.
Last year, we compared the UAP-AC-Lite to the UAP-AC-PRO, and did a side-by-side comparison review. So, we thought we should keep up with the tradition and compare a newer Ubiquiti Access Point to its predecessor. Ubiquiti has recently announced and released their newest access point, the UAP-nanoHD. With that, we have also seen people ask, "Which Access Point should I get, the UAP-AC-Pro, or the UAP-nanoHD?"
Our answer is a disclaimer that there really is no "one answer" to this question. It depends on your needs, what devices will be connected, and what you will be using it for. By understanding these basic questions of your wireless network needs, you can get a better sense of which product might be a better answer. Also, because both products are somewhat similar, we hope that this article contributes to some value and insight to help you with your decision.
Let's start by checking out the specs:
The AC pro has a 2.4ghz rate of 450Mbps while the nanoHD has a 2.4ghz rate of 300Mbps. If a lot of your devices are only capable of running on 2.4ghz, then the AC Pro would be better suited for your needs since it has the higher throughput on that radio. If you have more devices on 5ghz, the nanoHD would be best due to higher 5ghz speeds of 1733Mbps vs the AC Pro's 1300Mbps.
MU-MIMO And The Future of WiFi
The nanoHD also has a more advanced MU-MIMO and is more "futureproof" than the AC Pro. The difference between MU-MIMO performance makes a big difference between the UAP-AC-Pro (which only has Single User/SU-MIMO) and the UAP-nanoHD. MU-MIMO is an "AC" only technology, so if you're deploying in a setting where most devices are on the 5g radio, the performance on the nanoHD would be exponentially faster. It's simply because the nanoHD is able to process more signal information to more devices at once. It has more power to delegate the traffic of information from the same band radio signals, and encounter less bottle-necked traffic (often referred to as "lag" or "lag spikes") in data transmissions. One thing to take note of, is that MU-MIMO only applies to downlink connections, meaning routers and access points are able to simultaneously send signals to multiple users; but, end-user devices, like mobile phones or laptops, must still take turns sending data to the wireless router or AP, although they can individually utilize SU-MIMO to send multiple streams when it's their turn. To put simply, it's better to deploy in settings where end-users download more than they upload, which is the common scenario for most businesses.
Thinking Ahead: What Is Your Priority For The Next Few Years, Budget, or Being Future Proof?
Again, since there is no "right or wrong" answer to the issue of which access point to purchase; it becomes more of an answer of what your needs are, and whether it will allow some room for growth and scalability should you need it. Another important thing to keep in mind is that technology is sure to advance and improve in the near future, and new product releases should be expected.
Will you be okay with getting the AC-PRO to save you money and hold you over for the next generation of products to upgrade? Or would you rather get the nanoHD and know that you'd be set for another few years? It's this kind of planning and thinking that will ensure that your network stays relevant and continues to serve your needs, while being open to growing when the time comes.
If you're running on a very strict and lean budget, then the AC-PRO will be the winner. Yet, we have to mention that the nanoHD is still a better deal, costing only a little more than the AC-PRO and having the latest generation technologies baked in. With 5g technology on the rise to becoming the standard for devices, the nanoHD would be a good investment in futureproofing your wireless network.
Conclusion:
The thing to always keep in mind with Ubiquiti equipment is that you'll be saving a ton of money for quality equipment, ease of deployment and management. So, relative to other comparable products, you're looking at quite a bargain for the quality. Our verdict is, if you're looking at the best bang for your buck, the nanoHD would be the better investment for the long run. The price difference isn't too much more than the AC-Pro, and it allows you to be prepared for future devices that will be moving up to 5g radios. If you're on a budget, the AC-Pro is still a very relevant and capable product, but it may need an upgrade much sooner than the nanoHD as more devices transition to 5g and utilize the newer radios.
Contact Hummingbird Networks today to learn more about Ubiquiti's lineup.