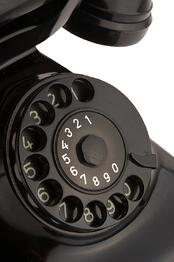 When dealing with older phone systems, are you having trouble finding replacement parts? Maybe upgrading your current phone system is becoming more of a chore. Don't worry, this is actually a very common problem but can be easily fixed. Most phone systems can last quite a long time--sometimes ten years or more--but technology is constantly changing and updating, which usually means your business also needs to keep up in order to remain competitive. There are a couple solutions you can do in order to get the old phone system parts you need as well as alternatives that will also help.
Finding Old Phone System Parts for All Types of Phone Systems
Knowing where to find these elusive parts is the first step in making the search less frustrating, but where exactly are they hiding? One of the best resources is going to be the Internet. Certified refurbished equipmentvendors will typically have older parts in stock just in case, especially if their customers need a replacement or repair job done on older or less common systems. All you have to do is check in with these vendors and see which parts they have for which models. Contrary to popular belief, not all parts are going to work with all models so you need to know what exactly you need to update or replace beforehand.
Here is a checklist when contacting a vendor about hard to find phone system parts:
Know the make and model of your phone system beforehand, just like a car. That way you can narrow down the focus of your phone system parts hunt and have a higher success rate of finding exactly what you need.

Check out their website and see what kinds of discounts, warranties, and even products they offer. Some sellers keep to specific brands, such as Adtran or Cisco. You can easily do a Google search on your specific type of phone system and the types of vendors with older parts.

Speaking of warranties, know the fine print that is associated with purchasing from the seller. Typically their warranty will cover a long period of time, maybe even several years, and can include free repairs or other incentives.
With all of this said, it might still be difficult to find the part you're looking for. Unfortunately, this could mean a few different things that might not be good for your current phone system. One of the biggest being your phone system is now considered obsolete and vendors don't carry the parts anymore. Other reasons could be that the model was discontinued, there was a recall, or a limited amount of your particular model was manufactured and parts are hard to come by.
But don't worry, this doesn't mean the end of the world! When you find yourself in the sort of situations mentioned above, then it might be time to upgrade your phone system entirely. Fortunately, it's inexpensive and entirely doable for your business to upgrade the entire phone system without having to be offline for a long period of time. Also, you'll see marked improvements in your phone system as well as adding on newer, advanced features that can make your staff even more efficient with their everyday tasks.
If you think you're ready for a completely new phone system because parts for your current system are impossible to find, then you're in luck because the same certified vendors mentioned before can help you. On top of having spare parts on hand, they can also guide you to a new system that works for your business while also providing the best prices and warranty. What's stopping you from having the best phone system for your business?