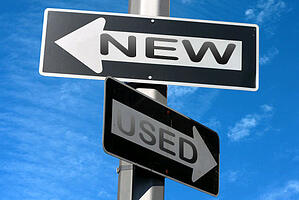 Between the economic turbulence of the last few years, and the huge push forward in business telecommunications technology, there's now a lot of used telephone equipment out there. For a business looking for a quick and inexpensive way to pick up a new phone system, used hardware can seem quite attractive.
And with sources ranging from eBay to bankruptcy auctions, there's virtually always a source of used technology at hand.
So, is buying used really as advantageous as it seems? Let's look at the relative pros and cons, versus buying used phone systems vs. new!

Used Vs. New Business Phone Systems: The Benefits And Drawbacks
I. Used
Pros:
There are couple big advantages to picking up used telephone equipment:
Cheap: Especially if you're picking them up at auction, used phone systems will often sell at a small fraction of their original price.

Fast availability: Used equipment is often in your hands and ready for installation the same day you make the purchase.

Good short-term solutions: If you need a stopgap solution, such as phones for an office that will only be open for a few months, used hardware can be an excellent value.
Cons:
There are enough disadvantages to buying used that unless you get a very good deal (which are out there) your TCO over time will ultimately be far higher:
No quality guarantees. Buyer beware.
Discontinued products. It can be difficult to find replacement parts for a used system, if it's discontinued or the manufacturer has shut down.
No warranty support. Or technical support, either.
Missing modern features. Phone hardware that's more than a couple years old may not be compatible with modern Unified Communications features.
Special hardware or software licensing may be needed. You also don't know if you're getting the complete package required to make your new phones work.
II. New
Pros:
Full warranty and support: You know if anything goes wrong, there's someone you can call to fix it.
Installation: Often, new hardware comes with installation packages that ensure proper implementation.
Unified Communications: UC has revolutionized how businesses work globally. Buying an older system means missing out on those benefits.
Modern systems compatibility: A new telephone system today will be fully compatible with current VoIP systems, including on-site phone system hosting.
Cons:
Ultimately, price and availability can weigh down the benefits of buying new:
Higher upfront costs: Buying new is likely to be several times more expensive than buying new. To help avoid this, check into lease to buy options to lower your monthly payments.
Delayed availability: Most new business phone systems are custom-tailored, and it can take up to four weeks for installation and delivery.
The Third Option: Certified-Refurbished

Thanks to the thriving market, there is also a third option available that, for many companies, provides a perfect middle-ground. When you purchase used hardware that's been refurbished and certified by networking specialists, you get:
Full warranty, documentation, and technical support.
Assurance that the phone system will work as advertised.
More recent hardware, often compatible with UC systems.
Significantly lower prices than new hardware.
Faster availability than new.
Also, most companies that sell pre-owned certified systems are in the business of purchasing pre-owned equipment as well. Very often you can trade in some of your existing equipment, further reducing your costs.
Unless your business is truly in need of the very latest and greatest in technology (which we are, of course, happy to provide) a certified-refurbished telephone system can quickly bootstrap an existing phone system into one that's ready for Voice-over-IP and Unified Communications.
Just remember, the same tradeoff in life span still applies: Even when refurbished, certified pre-owned phone equipment may not last as long as factory-new hardware.
New Or Used, Choose Wisely
Today, buying a new phone system isn't the simple decision it once was. The best way to get the best phones for your money is to take your time and weigh the options carefully before proceeding.
And if you've purchased some used or pre-owned telephone equipment lately, how'd it go?
Still on the fence on whether or not purchaisng used equipment is a good idea? Read our post 5 Reasons to Buy Used Network Equipment to help ease your mind.
image credit: www.insurancequotesfast.com