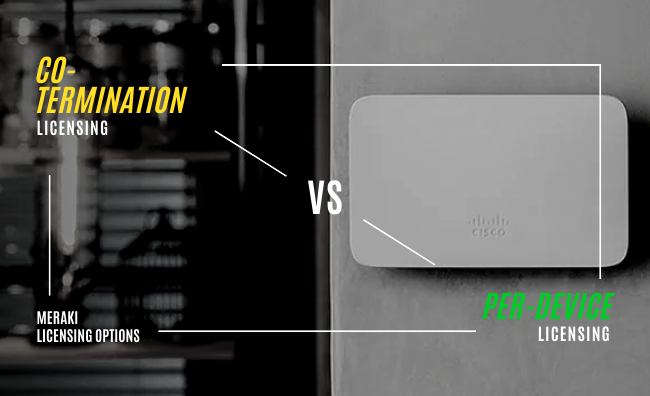 Cisco Meraki is beneficial to your network in various ways. In addition to being an intuitive cloud-based solution, it offers scalability, automation, and flexibility. The platform currently has two licensing options: co-termination and per device. It's advisable to understand the differences before picking the most suitable model for your business. An Overview of Meraki Per-Device Licensing
As the name insinuates, this model connects one license to every device on your network. It's flexible, especially if your organization has separate locations. Per-device licensing is a straightforward way to buy, assign, and monitor expiration dates.
You can also conveniently renew all or some of the devices. The cloud-based dashboard and API allow you to move licenses between networks or locations without contacting Meraki support. Apart from a generous 90-day activation window, Meraki offers a 30-day grace period before shutting down
expired devices.
Co-Termination Licensing Overview
This model applies one license and expiration date for the entire network or organization. It dynamically calculates the expiry date using a weighted average of the various license types across your company. That means the expiry date adjusts every time you add a new device and license.
The Meraki dashboard calculates your co-termination date by dividing the sum of the remaining days for all licenses by the number of devices. This licensing model applies to all Meraki devices, including the MR series of access points, MX SD-WAN appliances, cameras, sensors, and IoT devices.
Similarities Between Co-Termination And Per-Device Licensing
Both licensing models accommodate shared expiration dates for all devices on the network. Meraki license benefits and core product functionalities are also accessible. The two models also offer a similar SKU for license purchase.
Whether you opt for co-termination or per-device licensing, the license cost of each device remains the same. You'll receive an order number and license key for every purchase, with the dashboard calculating your co-termination date if you pick that option.
What are the Differences Between Per-Device and Co-Termination Licensing?
One of the most apparent differences involves license expiry. Although a co-termination model maintains one renewal date across the organization, it shifts every time you add a new device. Per-device licensing provides fixed, separate expiry dates for individual devices. Other differences include:
License compliance problems on a co-termination model can cause the deactivation of all associated devices. With per-device licensing, only the affected appliance stops working.

Once your co-termination license expires, you must purchase a renewal for all devices across the network. Although convenient, this one-time fee can prove costly for some companies. Per-device licensing offers more affordable individual renewals.
Both models might support the core functions of Meraki devices, but per-device licensing offers additional features. One of them is the integration of Cisco Umbrella into Meraki Wireless.

All devices on the co-termination enterprise license shut down once the 30 day grace period elapses, therefore hindering your entire network. The per-device model only shuts down individually-expired devices, allowing the rest of the network to keep operating.
A co-term license starts counting the 90-day activation window immediately after purchasing a license. That means you must activate it on the dashboard as soon as possible for maximum benefit. Per-device licensing is more flexible because it starts the countdown to the expiry date 90 days after purchase or immediately after assigning a device.
Hummingbird Networks is your go-to vendor for Meraki products and services. Our inventory includes wireless access points, security cameras, switches, and firewalls. We also facilitate Meraki licensing for its various hardware solutions. Our technicians and customer care reps will help you make sense of the co-termination and per-device licensing models. Contact us today for more details.