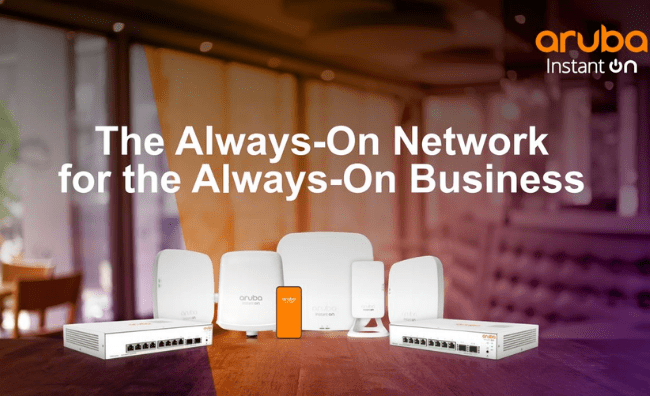 Aruba Instant On is a range of wireless access points and switches designed to provide reliable, fast, and secure network deployment. Whether you work from home or run a small business, its speed and scalability allow you to challenge more established competitors. Aruba Instant On provides value for money by solving complex networking problems intuitively and affordably.
Why Aruba Instant On is Suitable for WFH and SMBs
The Aruba Instant On-access point also doubles as a network router. This convenience allows you to start enjoying its benefits straight out of the box. Apart from the physical devices, the package includes all the services and software you need for setup.
This networking solution doesn't require licenses, prepaid contracts, subscriptions, or renewals. Its flexibility enables small businesses and WFH contractors to create networks that meet their prevailing needs. Deployment and configuration are as easy as downloading the Aruba Instant On the app, which guides you through setup.
The mobile application also enables remote management, editing, and
monitoring. You can access these functions via a web-based portal if you prefer wider screens. The dashboard allows you to perform various network management tasks, including bandwidth allocation, blocking unwanted users, and creating separate networks.
What Are The Best Aruba Instant On Products For Your Business?
Your ideal Instant On-device depends on various factors. They include the size of your premises, the number of connected gadgets, networking standards, and bandwidth requirements. One network can have up to 25 APs, each supporting 50 to 100 active devices. There are three major types of Instant On APs:
In-room wireless access points: The AP11D access point is suitable for offices, hotels, and other one-room premises that access your network. It can support up to 50 connected devices.
Indoor wireless access points: Aruba's indoor models include AP22, AP11, AP12, and AP15. Apart from compatibility with Wi-Fi 6, they support video streaming and other bandwidth-heavy applications. These devices are suitable for strengthening network coverage for small businesses such as schools, hotels, and retail outlets.
Outdoor wireless access points: The AP17 access point is a durable outdoor option that supports a maximum of 50 active devices. Its weatherproof design is suitable for various locations, such as outdoor cafes and poolside businesses.
Aruba Instant On currently designates the AP11D device as its primary router for Wi-Fi networks. It also provides a range of secure, simple, and affordable switches for optimum network performance. They include 1830, 1930, and 1960 switch series.
Benefits of Aruba Instant On
Aruba Instant On allows you to set up mesh Wi-Fi to eliminate dead zones in your house or business premises. This convenience improves network strength by adding new APs to accommodate more users.
Aruba's user-friendly hardware and software compatibility allows plug-and-play functionality within minutes of unboxing. You can intuitively manage all connected devices without advanced tech skills. There's no need for additional equipment such as routers.
The Instant On series also gives you complete control of your network. The dashboard allows you to identify bandwidth hogs and limit or block them. The system also prioritizes business-critical activities such as VoIP and video conferencing applications.
Every deployment of the Aruba Instant On series includes free enterprise-grade security. It has cybersecurity features that are essential for work-from-home and small business needs. They're effective at blocking malware, harmful web categories, and unidentified network users.
Conclusion
Hummingbird Networks is your preferred vendor of Aruba Instant On's high-quality networking solutions. Our highly skilled and experienced technicians are always ready to advise on the best AP, switch, or third-party application for your WFH and business needs. We also offer same-day processing and free shipping on eligible purchases. Place your order today to enjoy these comprehensive benefits.