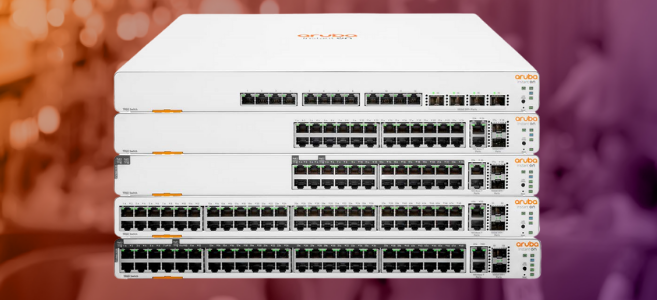 The Aruba Instant On 1960 Switch Series is a great solution for small and medium-sized businesses looking for affordable and easy-to-use wired network solutions for their mobile and cloud IT systems. They help such businesses stay afloat in the current fast-paced digital environment, where limited technical skills, small budgets, and other challenges restrict business growth. If your business is facing similar challenges, these scalable switches are a savior. Below are key features and use cases of the Aruba Instant On 1960 Switch Series.
Overview
The Aruba Instant On 1960 Switch Series has five switches, one 12-port 10-Gigabit aggregation switch, 2 24-port, and 2 48-port PoE model switches. Each access switch also comes with two 10GBASE-T and 2 10G STP ports that support high-bandwidth connections. The 1960 aggregation switch has 12 10GBase-T and 4 SFP ports that provide up to 10G connectivity to various network storage devices, servers, and access switches.
Both 48-port and 24-port PoE models have power budgets of 600W and 370W, respectively, which support modern IoT devices. The Aruba Instant On 1960 Switch Series also has stacking capabilities, with up to 4 switches, both aggregation and access options, which can easily be mixed/matched. The switches can be stacked and managed together through one IP address, which simplifies network system operations.
The Aruba Instant On 1960 Switch Series also allows stacking via local and cloud-controlled stacking modes. Local stacking enables True Stacking, allowing users to configure, troubleshoot, and manage switches physically with a single entry. On the other hand, cloud stacking enables businesses to set up their networks through Instant On apps.
Key features of the Aruba Instant On 1960 Switch Series are as follows;
Management
Network management features of this switch include;
Cloud-based management for your network systems


Intuitive web GUI management for local networks. This allows for 5 or more HTTP and HTTPS sessions.



True stacking – the switches simplify the management of multiple devices through one management unit.





Hybrid stacking – you can connect access and aggregator switches to form a single stack.





Cloud management stacking – this provides for automatic configuration and stack formation using recommendations from the cloud portal. Probable stack links and members are detected automatically and connected with a few taps.





Firmware update – the Aruba Instant On 1960 Switch Series provides automatic notifications of the updated firmware. You can then schedule updates at your preferred time using the switch app or web portal.
Other key features of this switch series include;
Multiple connectivity options




Loop protection, flow control, BPDU filtering, link flap prevention, and port mirroring switching options



Excellent network security, including TPM-based controls, port access control, automated VLAN assignment, ARP attack prevention, DOS protection, and DHCP snooping.





Excellent performance and efficiency with the auto-port shutdown, fan-less operation, and energy-conserving cooling systems.





Great routing features with static IPv4 routing and ARP table.
Why Choose the Aruba Instant On 1960 Switch Series?
With many options available on the market, why should you consider the Aruba Instant On 1960 Switch Series? Below are some differentiating features;
Easy to set up and manage

Performs well and has flexible options

Great user experience

Intuitive topology view and site inventory for access points and switches

Included security that protects your network system from malware attacks and unauthorized users

Excellent warranty and support – you get 24/7 phone support for 90 days and chat support until your warranty expires.

There are no hidden fees.
Conclusion
Aruba is an industry leader in the world of network management tools. Its sequel, the Aruba Instant On 1960 Switch Series, allows small and medium-sized businesses to reduce IT complexity, ease troubleshooting procedures, and creates a perfect foundation for adopting new technology to your business needs.
At Hummingbird Networks, we provide advanced solutions to businesses of all sizes. Our skills and experience in IT allow us to give comprehensive software and hardware services. Contact us today for more details.