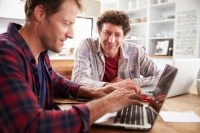 Are you on a "use it or lose it" budget? Are you concerned that failing to spend your available money could result in lower budgeting for the next year?
If so, now is definitely the time to look into spending down the rest of what you have, before it's too late. Of course, in IT there is always something you could be spending money on, whether it's infrastructure upgrades, pieces of equipment you think would be useful in years to come, or just tools to make your own life easier.
While far from an inclusive list, we've got some ideas for how you might eat up the rest of that budget, while still doing some good for everyone involved.

1 - Meraki Security Cameras
This could be one of the pricier options on this list, depending on how many cameras you'd need, but one which could be of huge benefit. We can safely say, with no exaggeration, that the new Meraki security camera systems are the easiest-to-use and implement security systems ever created. They integrate directly into the Meraki Dashboard, and are simple to access whether locally or remotely.
If your security system is on a totally different network or requires obtuse software to run, MV series cameras could revolutionize how you handle visual security.


2 - Meraki Network Security
This list won't be entirely about Meraki, but let's hit the other highlight of Meraki systems: their revolutionary network security appliances. One of the strongest selling points of Meraki is their "fire and forget" approach to installation, and that shines in their MX-series firewalls. Once in place, the on-board software automatically updates itself whenever patches are available with zero administrative input needed. If you have the Advanced Security License - which we strongly recommend - this extends to the intrusion detection, anti-virus, and anti-malware systems as well.
Since Meraki's virus/malware definitions are crowdsourced and cloud-based, these are firewalls and other security appliances that "just work" and consistently have the latest in protections installed. It's zero-stress network security of the highest order.
Plus, once you've begun using Meraki security systems, you can also utilize their excellent mobile device management as well.


3 - Better UPS Systems
Another area where you can never really have too much protection is in the realm of Uninterruptible Power Supplies. How many core systems or departments are protected by a UPS? How long will the batteries last in case of power outage or natural disaster?
(Have you even crunched those numbers lately?)
We can virtually guarantee that if you tell your bosses that you've spent the rest of the IT budget doubling the amount of time the company can remain functional during a blackout, they'll be happy. A better UPS is always an excellent insurance policy, no matter the size or scope of your operations.


Oh yeah- When was the last time you changed those UPS batteries? They don't last forever you know... No battery= no backup.
4 - Polycom Videoconferencing Systems
Do you want to take your internal communications into the 21st Century in a big way? Take a look at the Polycom VVX500 and VVX 600 lines of IP phones. These desk phones are practically miniature computers, featuring high-quality touchscreens, direct Windows integration and screen extension, app support, and easy compatibility with most standard Unified Communications systems. Plus, add a USB camera and you have an amazing internal videoconferencing system to boot.
Does your operation need videoconferencing? Probably not. Would it seriously impress executives, leads, clients, and\or investors that you have videoconferencing? Absolutely.


5 - 802.11ac Wave 2 WiFi Access Points
Finally, let's talk about future-proofing. There's no dispute that the mobile revolution is already upon us, with more and more people relying on smart devices and laptops every day. It's easily possible that by the end of the decade, desktops will be mostly used for dedicated specialty roles while nearly all day-to-day productivity will happen on devices people carry with them.
This is going to put ever-increasing burdens on your WiFi network, especially as online applications are demanding more data as well. That also means you need to keep internal speeds high just to maintain the status quo.
802.11ac Wave 2 is the current top-of-the-line, with maximum speeds approaching 4Gbps, spread across four or more spatial streams. With an increasing number of user-side devices supporting 802.11ac, an upgrade now should serve you well for years to come. Furthermore, the next big WiFi leap - 802.11ax - isn't expected to hit the market for at least two years, and will take even longer to become widely adopted. So an investment in 802.11ac now is a very safe bet.
So, that's it for this list. As always, if you want help or recommendations finding the best upgrades for your business needs, just contact Hummingbird Networks and ask.
In the meantime, tell us below how you're spending down your remaining budget!