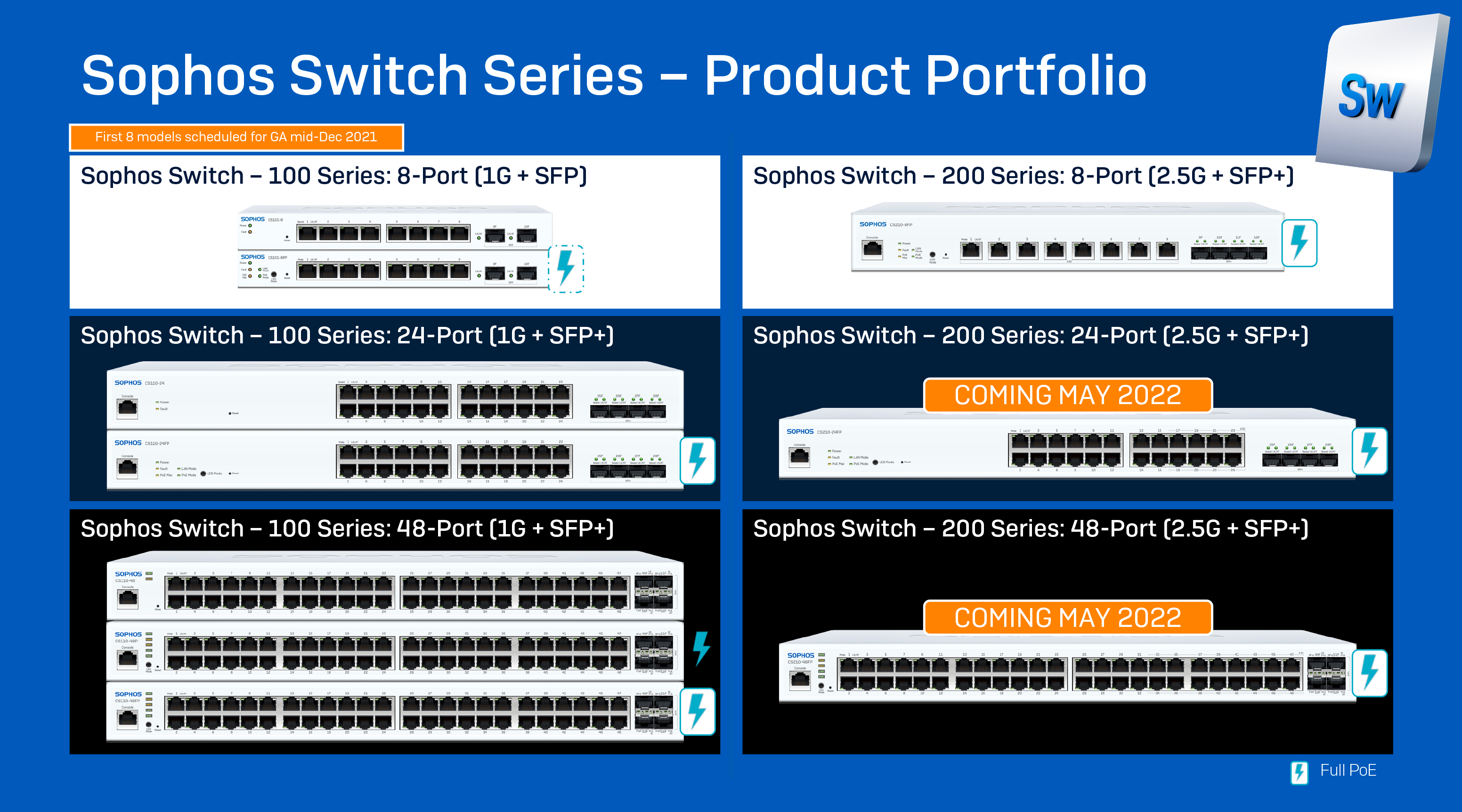 Sophos' much-anticipated Switch series is now available. These versatile devices facilitate network access at the LAN edge by powering, controlling, and connecting associated gadgets. Access layer switches play the role of gatekeeper to the rest of your network. They also minimize exposure in case of a breach through network segmentation.
An Overview of the Sophos Switch Series Models
These switches are available in two main categories: the 100 and 200 series. The former consists of models with 1GE Ethernet ports and SFP or SFP+. Models in the 200 series have 2.5 GE ports and SFP+. Each series has 8, 24, and 48-port models. Details include:
1. 8-port switches

The 100 series 8-port switches have a desktop form factor and wall mounting capability, while the 200 series has a 1U form factor. Their technical specifications include a switching capacity of up to 20 Gbps (120 Gbps for the 200 series), an 8K MAC address table, and 512 KB packet buffer memory.
All 8-port models can support 256 simultaneous VLANs from a total of 4096 VLAN IDs. The 100 series has a PoE budget of up to 100W, which rises to 240W for the 200 series. All ports are PoE capable.
2. 24-port switches

These switches have a 1U form factor and rackmount capability. They also have a 128 Gbps switching capacity (152Gbps for the 200 series), 16K MAC address table, and 1.5 MB packet buffer memory. All 24 ports are PoE capable, with a power budget of 410W for both series.
3. 48-port switches

The most robust 100 series Sophos switches can handle up to 176Gbps switching capacity, which rises to 224Gbps for the 200 series. Other technical specifications include a 32K MAC address table, 2MB packet buffer memory, and simultaneous support for 256 VLANs. They support 802.3af/802.3at PoE standards, up to 48 PoE capable ports, and a maximum power budget of 740W.
Sophos Switch Management
You can manage your Sophos switches in four ways. The most effective is via Sophos Central, which provides a single cloud-managed solution for all Sophos technologies. It saves time, money, and effort through real-time information sharing and automating incident responses. This option requires a subscription.
You can also manage your Sophos switches through a local web management
interface. It provides immediate access to the configuration and feature set for your model. A third management option involves using the command-line interface (CLI). It's preferable if you're already familiar with CLI for network management. Finally, you can manage and monitor your switches using the Simple Network Management Protocol (SNMP). CLI and SNMP are also inclusive of your switch's purchase price.
Benefits of the New Sophos Switch Series
Sophos Central utilizes the One Vendor One View concept, enabling seamless integration with your existing Sophos solutions. It reduces complexity, security threats, and other risks associated with multi-vendor network deployments. The different port models help you improve the quality of service at the network access layer through better port security and VLAN segmentation.
They also provide four distinct switch management options, which improve network efficiency. In addition to switches, Sophos Central helps you manage integrated endpoint, server, firewall, email, and mobile technologies.
Another benefit is the simple setup and deployment techniques. Once you enter your serial number into the Sophos Central dashboard, it will automatically configure your switch in minutes. Finally, the Sophos switch series is convenient for several organizations, ranging from home offices to small and medium enterprises. These devices are capable of securely extending your SD-Branch deployments.
Talk to the Experts
Hummingbird Networks is your trusted vendor for Sophos products, including the new 100 and 200 switch series. We pride ourselves on offering comprehensive solutions to your networking issues. Our highly qualified customer service reps and technicians are always ready to address your inquiries. Place your order today to enjoy free shipping and same-day processing for eligible purchases.