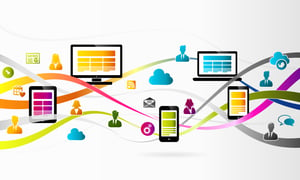 In a market that's as wide open as small business phone systems, there are solutions for every possible need on the market... but you don't need every solution that's out there. A good knowledge of your needs – as well as what you don't need – can help you choose the best telecommunications equipment.
So, while there may be situations where these might be options, in general these are business telephone systems we tend to advise our clients to avoid:


Small Business Phone Systems Review
Cisco
While Cisco was once the undisputed go-to king of networking, their star has been rapidly dimming in recent years. The rise of several competitors – most notably ADTRAN – has put market pressure on Cisco that they have, so far, been mostly unable to answer.
As a result, their business telephone systems tend to be overpriced compared to virtually any other option on the market. An average Cisco router is twice as much as a mid-range brand like Netvanta, while providing virtually no substantial benefits that warrant the higher price point.
The one area where Cisco still rules is the very upper tier. Those with businesses hosting thousands of users, who are in need of personal support contacts at the manufacturer, will probably find better service and equipment at Cisco. For everyone else, there's rarely justification for the higher prices.
Avaya
When we're discussing various phone system options with our clients, Avaya always comes up. As a spinoff from Lucent, they've developed a reputation for solid, if unexceptional hardware and certainly have a pedigree in phone systems. Their price points also tend to be on the low end of the market.
The issue with Avaya is that they do very little to stand out. If all you need is a basic set of office telephones, Avaya can meet your needs as well as anyone. However, for a company spun off of a business telecommunications innovator, they have contributed little new to the marketplace and generally seem in most ways like a second-tier firm.
Also, their unified communications software is generally less easy to use than systems from Cisco or ADTRAN, although -like their brand in general- it's functional enough. Of more concern is that, like Cisco, they've been engaged in a constant series of acquisitions and divestitures that suggests their devotion to any one product line is mostly decided by its profitability.
If you're on a budget, Avaya won't let you down. However, their staying power is still unproven and they may not be the wisest long-term investment.
Hosted VoIP Providers
There are plenty of arguments, especially for smaller companies, for why a hosted VoIP solution makes sense. It effectively takes the old telephone system model and moves it online, with set fees and a single point of contact for technical and billing issues.
However, there's no need for such providers at all today. That's why we recommend that businesses investigate on-site PBX systems which allow them to totally control their own telecommunications. Everything is controlled in-house, and all you pay for is the bandwidth.
These on-site systems also show a lower TCO as time goes on as well. The combination of extra control and lower ongoing costs make a pretty compelling argument against paying someone else to host your VoIP.
ADTRAN: The All-In-One Solution
If you're wondering what we do recommend to our clients, it's generally ADTRAN. ADTRAN produces products that are competitive with Cisco's, feature-for-feature, yet generally at about half the price. Their custom operating system, AOS, is as simple for smaller firms to use as any on the market, and allows for simple scaling, even across vWLAN distributed networks.
Whether you have two users, or two thousand, we've recommended ADTRAN to plenty of businesses and we've rarely heard a complaint afterward. If you're looking for an easy solution for your business telephone systems, we have you covered.