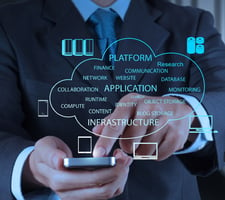 For the past few years, there's been a serious need going unaddressed in the world of business networking: a need for ease.
A modern enterprise network can be used for dozens of purposes today, from powering a telecommunications system to coordinating work between remote offices in different time zones. Modern networks have to be able to bridge differences in underlying architectures, as
well as reaching across huge distances of physical space to bring different parts of your business together.
Furthermore, with the explosion of mobile devices in the work place, these already complex systems suddenly needed to be "device agnostic" as well. Meaning they need to be able to interface with virtually any smartphone, tablet, or other portable work device your employees might want to use. This brings with it a host of new challenges, ranging from simple communication problems to larger issues of system security.

However, there is now a solution that's being deployed across a wide range of different industries: The ADTRAN BlueSocket Wireless System.

What is this New Wirless System?
As the name suggests, ADTRAN's New Wirelss System brings to networking the same ease of wireless connectivity we enjoy with BlueTooth devices. Based on cutting-edge 801.11n wi-fi technology, the access points give you true "plug and play" networking, allowing virtually any device to connect to your network painlessly.
Adtran does this by creating virtual Wide Area Networks -vWLANs- which exist "within" your existing physical networks, as well as utilizing the Internet at large. The new wireless system runs its own security and authentication protocols within this virtual network, decentralizing its operations and adding new layers of protection. So, it expands your network significantly while still giving you the security protections that a modern enterprise needs.
These wireless access points are the perfect solution for a business looking for affordable and flexible networking that can grow and change alongside their own business needs.
Key Benefits of the Wireless Access Points
Open Systems Interoperability: Simply put, if it's a wireless device manufactured any time in the last several years, it can almost certainly connect to a BlueSocket access point. It supports all current 801.11 standards as well as implementing proposed future protocols to extend its lifespan.

Zero configuration: Each individual access point requires no preparation to connect to an existing vWLAN. Mount it where you want it, turn it on, and it does the rest.

Lower costs: Each access point, when connected to a larger vWLAN, can handle roughly ten times as many connections, users, and bandwidth throughput as a traditional network access point. This means you need far less physical hardware – saving you money – as well as optimizing the use of your existing equipment.

Cloud-based management: The entire vWLAN can be controlled through a single concise interface, accessible from anywhere online. This gives your SysAdmin unprecedented oversight and power over your network operations.

Encourage BYOD: "Bring Your Own Device" is a huge trend in business-employee relations, and why not? Your employees get to use the devices they're comfortable with to boost their productivity both in and out of the office, and you don't have to pay for the hardware. This is a win-win situation.

Robust internal security: Its networks employ multiple levels of system security, beginning with a range of high bit rate encryption standards, and continuing on to include proactive self-monitoring for intrusions, malware, zombie-based DDOS attacks, and other advanced hacking techniques. Out of the box, this network system is likely more secure than your existing network.

Self-Optimization: By distributing its management over the entire network, a BlueSocket vWLAN can monitor for RF interference and route around it, as well as using the power of the distributed network to even out bandwidth demands.
Whatever your plans for your network, Adtran's New Wireless systems can help you do it faster and more easily. If you'd like to know more, contact us with your questions and we'll be happy to assist you however we can.
6-1-15 Update: Check out the latest Bluesocket 802.11 AC Wireless Access Points