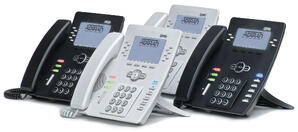 While no business can afford to waste money, small businesses have to pay particular attention
to their cash-flow. Working smarter/not harder is how small businesses grow successfully. So for the cost-conscious project manager, CEO or comptroller, decisions like which phone systems to invest in will have serious long-term effects on the company. Too limited a system will be a drag on efficiency while a excessively robust system will be a waste of money. So here are things to consider when looking at small business phone systems.
Know Your Business
Regardless of email, social media, and virtual interaction, most business is still done, and will always be done, via the phone. Why? People want to hear voice-inflections and get a feeling for what the other person is actually saying. It is much easier to ignore an email than a vocal request.
However each business is different and ones whose lines of communications are mostly internal are going to have very different needs than those with lots of contact with clients/customers. Knowing how the phone is going to be used is key to choosing what you will need. There are many handy (but more expensive) options for small business phone systems which may sound good but aren't right if you don't have a lot of client/customer interaction.

Future Needs
It also pays to look at where you want to be in the future. Will the phone systems you choose grow with your business? How difficult will it be to merge into or change to a larger system? It can be hard to accurately assess future needs but system portability can be a potential company-killer if your business model depends on your phone system.
Options as Opportunities
One way of working smarter is to take opportunities where you can. Most people hate being on hold because most companies rarely use this opportunity. Instead of just filling air with cheesy music or "Your call is important to us", benchmark companies use it to give advice, information and other added value content. This also allows a small company a chance to show how professional it is. Every phone call is another opportunity to impress a customer/client so your phone system should be able to make this happen.
Time Management
Newer options such as Find Me-Follow Me can help cut down on time people are waiting for a pick-up as well as allow the caller to direct their own call. These features are important given how unprofessional it is for a call to ring and ring. Auto-attendants, while useful can be a huge turn-off to callers if too difficult. Nobody likes to be trapped in a loop and never get connected. Properly managing call routing can really make a positive impression on callers.
Technology Types

The internet is quickly changing how we use the telephone and this is reflected in the hardware. Companies where the phone use is not as intensive (say a home construction contracting business) can easily do with a Voice over Internet-Protocol (VoIP) system. However because of the marriage between phone and internet, care must be taken to allow for enough bandwidth for phone and faster internet service. Many cable companies give price breaks for VoIP bundles with internet service along with cable television if used.
For those companies with more extensive phone use, Private Bank Exchange (PBX) is probably a better bet especially for later expansion. Traditionally PBX systems have been only for medium to large businesses. However newer PBX systems are making it cheaper for smaller businesses to afford them which allows for cheaper and less intrusive growth later on.
Get the Facts
Installing or upgrading your phone system is a big project so be sure you talk with subject matter experts in the field. Your company is unique and has unique needs. Tailoring it to meet your current and future needs will help grow your company for years to come. Contact us if you have any questions regarding small business phone systems or any other IT need. We're here to help!