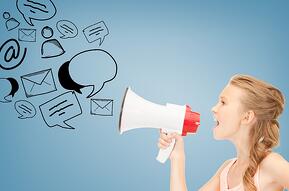 Recently, we posted a blog in which we discussed some of your options for enterprise phone systems. Today, we wanted to take that a little further and talk about specific pros and cons to VoIP phone systems.
As we frequently point out, the business telephony services industry has become hugely complex, with dozens of specialized solutions targeting micro-niches within the business market. It can be legitimately difficult for businesses to decide which route for small business phone systems will be best for them.
Well, we're here to help, so let's look at why one might -or might not- want to use several of the most popular business phone systems.
The Pros and Cons of VoIP and Enterprise Phone Systems
I. Copper Wire
Your first option, of course, is to simply stick with traditional copper wire systems. These are certainly ubiquitous and generally reliable, depending on your local vendor. It's an easy option for those who are distrustful of new technology.
Unfortunately, the rapid adoption of VoIP technology illustrates the problem with this point of view: There are just too many benefits to VoIP that you ignore. From lower long distance costs, to easier telecommuting, to being able to integrate voice, video, and text messages into a single system... copper just isn't a good bet for a company looking to invest in its future.


II. Software VoIP
For businesses on a budget, there are numerous software-only VoIP solutions. The most popular of these are Skype and Apple's FaceTime video phone system. As these packages are generally free, or extremely low-cost, they give smaller businesses a chance to get their feet wet in the VoIP ocean.
But, they're not really that suitable for large-scale business use. The free versions of these systems often require everyone involved to be running the same system. That makes Skype a decent cheap solution for intraoffice work, but their utility quickly vanishes once outside parties enter the picture. At best, this route will still demand another upgrade once the limitations of free services become apparent.


III. Hosted VoIP
This is the phone system of choice for smaller businesses that are serious about moving
towards VoIP communications. At this level, you can enjoy full inter-operation between your VoIP and copper services, allowing you to call anyone and be called in return regardless of phone system deployed. You'll also be able to integrate your communications and centralize them, while moving the bulk of the hard work running it into the hands of telecommunications specialists.
The downsides are the usual ones for outsourced services: You lose control over your system and are forced to trust in your VoIP provider in much the same way you have to trust your local phone company. Further, hosting fees do add up, and tend towards a higher TCO when
tracked over several years.


IV. On-Site VoIP Phone System
For businesses that want to take total control of their VoIP communications, on-site phone system is the answer. This requires a higher lever of skill and technology investment, but it allows you to interface directly with the traditional systems. The only limit is the skill of your administrators in setting up the system.
On the downside, it requires a slightly higher investment up-front. However, its TCO tends to be lower than an outsourced service once the initial costs are amortized.
The best systems for you simply depends on what your business can afford, and where you're looking to take it. However, if you're still only using copper wire, it really is time to consider an upgrade. You're missing out on so much!

Whatever option you pick, you'll be enjoying superior service and sound quality while also enhancing the effectiveness of your office communications. Combined with the long-term cost savings, this makes a VoIP upgrade an easy choice to make.