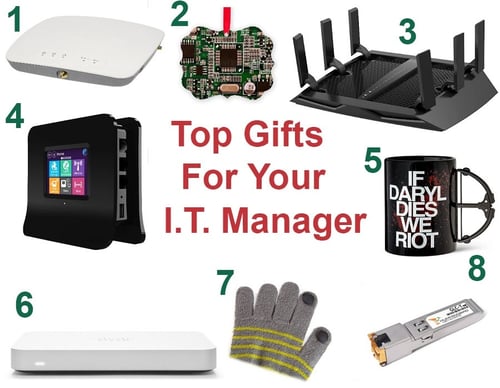 While you're in the midst of making your list and checking it twice there may be someone very important who you can't find that perfect gift for. If it just so happens to be your I.T. director/ manager than you're in luck as we have hand selected the top tech gifts for the one you rely on and love.
Tech Gifts 2015
1. Netgear ProSAFE WAC720
The Netgear ProSAFE WAC720 is the perfect wireless access point for small to medium sized businesses with its extremely user friendly interface and affordable price point. The WAC720 brings 802.11ac and features a 2x2 MIMO antenna array, giving it maximum speeds of 1.2Gbps ideal for supporting a BYOD environment. Input for the WAC720 comes via a standard RJ-45 Gigabit Ethernet port. It features many standard security features including 802.1X/RADIUS and fully supports Power-over Ethernet, allowing it to run solely off PoE Power. The WAC720 encompasses all you would want in an access point and more with a price tag that will make even the Grinch smile.
2. Circuit Board Ornament
Every good techie would love to trim their tree with a Circuit Board Ornament from CaféPress. At $14.99 these ornaments allow you to carry your love of taking equipment apart into the holiday season.
3. Nighthawk X6 WiFi Router
If Darth Vader had a WiFi router this would be it. The Nighthawk X6 Tri-Band Wifi Router is nothing like you've experienced before due to the its breakthrough Tri-Band WiFi technology built to connect to every device automatically. With its powerful combination of features- wireless speed of up to 3.2 Gbps, 3 WiFi bands, Smart Connect intelligence, and Dynamic QoS- the Nighthawk X6 is the crème de la crème of routers.
4. Securifi Almond 2015
A much more budget friendly and just as intuitive router is the Securifi Almond 2015. With its user friendly module the Almond 2015 provides a centralized hub to control your smart devices. With 2.4 GHz Wifi speeds of up to 450 Mbps the Securifi Almond 2015 is the wireless router for the most technologically advanced era.
5. Daryl Dixon Coffee Cup
Because Grimes/Dixon 2016, enough said.
6. Meraki Z1 Firewall
The Z1 is an enterprise class Meraki security appliance featuring advanced 7 Layer traffic shaping with per application configurations. With five Gigabit Ethernet ports and a dual radio 802.11n wireless, the Z1 extends the power of Meraki cloud managed networking to businesses of all sizes. The Z1 allows administrators to deploy network services including VoIP and remote desktop to remote employees with a single click. As with all Meraki devices the Z1 can be managed through the Meraki Dashboard, a cloud based GUI that gives you full access to your entire Meraki Network.
7. Digits Finger Pads
Digits are an easy snap on that gives your gloves touch screen technology. Just attach digits to any pair of gloves and your fingers will be able to send emails and browse your Smart device without frostbite this season.
8. Compatible SFP
With Hummingbird Networks Compatible SFPs you are making a smart budget saving choice for your network. Why pay more for optical transceivers? Our compatible optical transceivers are fully tested and guaranteed and come with a lifetime warranty. Produced in the same facilities as other OEM models, Hummingbird Networks SFPs come at a tenth of the price and make great stocking stuffers.
Merry Techmas!