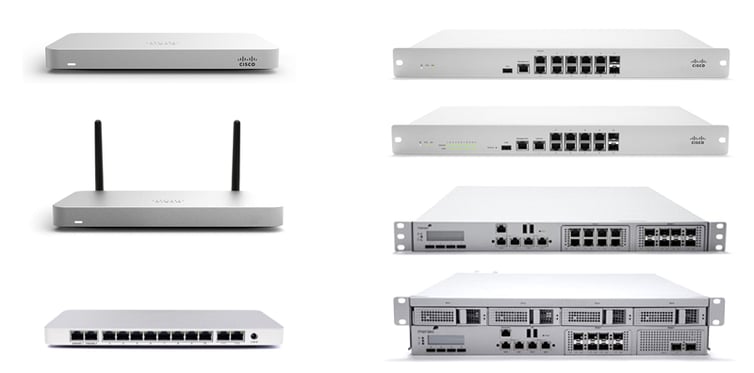 The shift to high-speed internet connections has prompted many organizations to invest in new compatible devices. Meraki's MX firewalls form an essential defense against increasingly sophisticated cyberattacks. Its latest models feature a firewall throughput of 1Gbps and above. They include the MX75, MX85, MX95, MX105, MX250, and MX450.
Meraki MX's Outstanding Features
In addition to gigabit connectivity, the firewalls also have higher VPN throughput compared to previous models. This increased capacity is essential to deploying a Secure Access Service Edge (SASE) to your IT environment. SASE improves cloud security by combining SD-WAN, VPN, and associated security features.
Apart from SASE, Meraki MX firewalls integrate enterprise-level security tools to protect organizations of all sizes against breaches. They include options for malware protection, Umbrella encryptions, and SSL inspection. MX devices incorporate the latest security solutions without reducing the expected performance.
Modern IT environments incorporate several mixed-use networks and applications, which makes traditional port and host-based security
insufficient. Meraki's next-generation firewalls have layer-7 visibility, which allows you to monitor all connected devices from a cloud dashboard.
Flexibility and customization are other vital features of Meraki MX firewalls. There's an ideal device for any business size, price point, and user requirements. For example, the MX75 is suitable for an organization of at least 200 people, while the MX95 can handle up to 500.
While the newer models cost more, they offer advanced features, including enterprise-grade security and gigabit throughput. A separate licensing requirement completes the comprehensive cloud management experience.
What are the Pros and Cons of Meraki firewalls?
An overwhelming majority of Meraki users are likely to recommend the MX firewalls for the following reasons:
1. Simplified management
Device pre-configurations provide a smoother site installation process. You can also save time by cloning existing configurations and using saved templates for new installations. This convenience improves your ROI by reducing downtime and eliminating the need for on-site technicians every
time you have an issue.
In most instances, Meraki's products have a plug-and-play functionality that's appropriate for small businesses. All you need is an internet connection for remote setup. You can manage all connected Meraki devices from the intuitive cloud dashboard. This simplicity makes it easier to perform tasks such as license renewal and troubleshooting.
2. Scalability
Adding a new device to your network is as easy as inputting the licensing details into your cloud management dashboard. The system supports a mix of older and latest models, including non-Cisco hardware. This flexibility makes it cost-effective to add new branches to your setup. Automatic software updates mean your entire network will always have the latest performance and security features.
3. Seamless integration
This feature is probably Meraki's best selling point. Your MX firewall integrates smoothly with every other device and application in the Cisco ecosystem. The benefits include fast and stress-free purchase, licensing, support, configuration, troubleshooting, and administration. The improved visibility makes it easier to block malware, prevent phishing attacks, and monitor roaming users.
While there are some concerns about the prices of MX firewalls, these comprehensive solutions coupled with the extended end-of-life date are worth the price. Alternative firewall products and services would require additional spending on various app integrations. Meraki offers a seamless and intuitive experience that covers all your networking and security needs. Besides, the flexible licensing model allows you to pick a plan you're comfortable with, then upgrade accordingly when the need arises.
Final Thoughts
Hummingbird Networks is your vendor of choice for Meraki MX firewalls. Once you experience the Meraki ecosystem's intuitiveness, durability, and robust security, you'll wonder how your organization ever survived without it. In addition to its state-of-the-art cloud management dashboard, our technicians are always on standby to help you with configuration and troubleshooting. Place your order today to enjoy the most efficient IT environment.