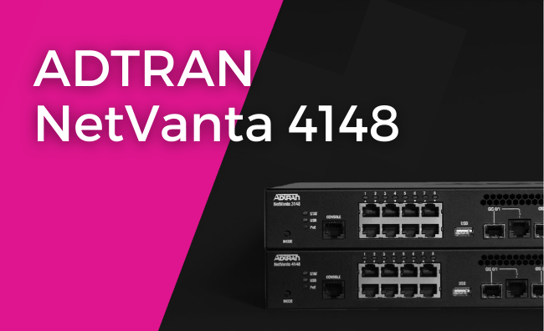 ADTRAN NetVanta is a series of enterprise routers designed for high network performance. They offer comprehensive solutions for small and medium-sized businesses, including bandwidth expansion and network security. The NetVanta router family comprises fixed port, modular, multiservice access, and integrated switch/routers.
NetVanta Router Use Cases and Applications
NetVanta routers are applicable across businesses with multiple locations, ranging from office to manufacturing environments. They're compatible with several devices and VLANs. In-office setups, they're easy to install and configure. They also have diverse mounting options for convenient placement.
The NetVanta 4148 is suitable for fiber-connected enterprise access networks. This router combines several capabilities into a versatile and affordable platform that increases efficiency for managed service providers. It improves their ability to bundle services and offer solutions that require high bandwidth speeds.
The NetVanta 4148 fulfills the evolving needs of the enterprise network, including the rising demand for cloud services and WFH applications. It's ideal for associated services such as site-to-site connectivity, HD voice, secure internet, and converged access.
These features mean ADTRAN's routers and network solutions are applicable in various industries. They include manufacturing, logistics, construction, live events, energy, finance, healthcare, hospitality, education, retail, and advertising.
Benefits of Using NetVanta Routers
The NetVanta 4148 is an excellent example of a high-performance, fixed-port Ethernet router. It's a VoIP-ready device with practical features such as Quality of Service, Voice Quality Monitoring, and Class of Service. Apart from computing network traffic patterns, they help analyze delay, packet loss, and other statistics relevant to improving VoIP calls.
ADTRAN's routers are compatible with other industry-leading call agents and switches. They support 802.1q VLAN trunking and dynamic bandwidth allocation for efficient utilization.
The NetVanta 4148 also supports high-speed enterprise connectivity bundles of up to 1Gbps. One of its top benefits is flexibility, which makes it suitable for multiple applications. For instance, its four Gigabit ports can be either WAN or LAN facing, thereby supporting separate voice and data deployments.
NetVanta routers run the ADTRAN operating system (AOS) to complement their durable and reliable hardware. This software supports static, default, demand, and policy-based routing. It's also compatible with various protocols, including BGP, RIP, OSPF, and PIM Sparse Mode for multicast routing.
AOS also incorporates advanced cybersecurity solutions, such as a stateful inspection firewall. This feature effectively identifies and blocks common DDoS threats, including IP spoofing, TCP syn flooding, and ICMP redirects. Additionally, AOS can perform URL filtering without utilizing external servers. This extra security layer allows network admins to restrict harmful websites.
The ADTRAN n-Command MSP platform is another unique benefit of the NetVanta 4148. It enables remote network management, eliminating costly and inconvenient on-site maintenance. Apart from discovering devices, it allows mass configurations, backup, firmware upgrades, and the generation of inventory reports.
ADTRAN's AOS offers an intuitive, browser-based GUI that guides users through popular management tasks. The configuration sequence is similar to that of other NetVanta routers and switches. This convenience simplifies future purchases and upgrades. It also eliminates the costly training and certifications required for new software.
Final Thoughts
ADTRAN NetVanta routers have a reputation for reliability, scalability, durability, and value for money. At Hummingbird Networks, we help your SMB enjoy these benefits by stocking comprehensive hardware and software products. Our highly qualified customer care representatives and technicians are always ready to recommend the best solution for your particular needs. We also assist with configuration, maintenance, and upgrades. Contact us today to place your order.