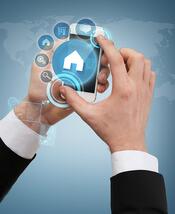 Use of technology has revolutionized human life in more ways than one. It has affected the way you live and the way you work. Speaking of work, the impact of technology on the working environment has also been huge. With more and more people looking to set up their own ventures, the need to have affordable and cost-effective networking hardware to cater to their needs is always high on the agenda.
The Concept of VoIP
VoIP, or Voice over Internet Protocol, is the common name used for transmission technologies, communication protocols, and methodologies that are involved in delivering
not just voice communications but also multimedia sessions over Internet Protocol networks.
What's the difference between a VoIP vs. Analog phone? In simpler words, VoIP is a technology that allows you to make telephone calls over computer based networks, like the Internet. The analog voice calls are converted to digital data packets through this process. It supports real-time, two-way transmission of conversations using Internet Protocols over the computer.
How It's Accessed
VoIP can be accessed with the help of a service provider and a standard computer audio system. In some cases, a few service providers offer services through ordinary telephones, special adapters are needed in order to connect a VoIP to a home computer network. Many VoIP implementations are generally based on either the H.323 Protocol or on Sip Protocols. These are typical protocol standards used for multimedia communications that support teardown, call setup and forwarding or transfer.
Advantages
Here is a list of advantages that VoIP provides, aiding you in selecting the best type of VOIP for your required needs.
The biggest advantage of VoIP is that it thrives to bring out additional value from the already existing infrastructure. What's more, it promises to do away with any additional costs. It can transmit the sounds you make using your standard Internet infrastructure, with the help of the IP Protocol. This, therefore, allows you to communicate without paying for more than your monthly Internet bill.

The software available in the market for making VoIP calls is generally freely available either in the market or over the net. That is why they can be easily availed or downloaded and used effectively with the help of an internet connection.

The most easily available software for making VOIP calls is Skype which allows you to make free calls from your PC. As far as business is concerned, especially small and medium enterprises, the use of this technology can be of additional advantage because this helps to reduce the overall telephone charges for the company.
What's more it also allows conducting video chatting or conferencing with the help of any simple software.
The Costs Associated with VoIP
While using traditional landline or mobile phones, you are generally forced to opt for the PSTN services. A PSTN or Public Switched Telephone Network is the traditional old telephone system that carries analog data. However, this is way cheaper than the standard phone calls. VoIP is specifically important for individuals or businesses that have their transactions based internationally. The communication costs in such cases come down by almost 90%.
The Increasing Trend
With recession and inflation playing major roles in most economies, individuals as well as companies are looking to initiate steps to cut down on their operating costs and technologies like VoIP can help them hugely. It has already gained acceptance among people across the globe and the popularity is still increasing. The security and regulations regarding the use of this technology are also increasing as the popularity increases. The public is becoming more and more conscious about the advantages as they are hearing more and more about VoIP. With computer and internet replacing other forms of communicating devices the craze for VoIP going up. And as the world economy expects even more advancement in terms of new business ventures the trend for VoIP is expected to go up even further.
In the market for a new small business phone system? Be sure to reach out to us,we'ld be glad to go over what's available and can even help you save hundreds on your monthly phone bill plus get up to $25,000 in networking equipment free.