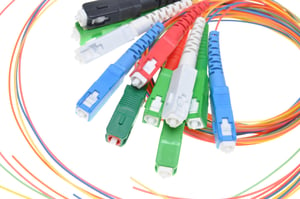 When clients come to us for advice on upgrading their network to take advantage of new communications technologies, one of the single biggest barriers to entry is often the cost of re-cabling.
Enterprise-grade networking equipment is now affordable for even small businesses, but that doesn't mean their building is necessarily ready for it. Shops still wired for traditional copper-wire phone service could be looking at substantial costs dropping in higher-grade Ethernet cable, or fiber optic lines.
At least, that was true before ADTRAN's ActivReach technologies.
The ADTRAN ActivReach Difference
One of the biggest reasons we partner closely with ADTRAN is that they're a hardware firm after our own heart: Like Hummingbird Networks, they're committed to creating affordable networking solutions for smaller businesses, while still providing quality that's comparable to the biggest brands.
For years, they've been pioneering new ways for smaller firms to affordably embrace high-speed technologies, and that's exactly what this ADTRAN switch delivers thanks to ActivReach.
ActivReach is ADTRAN's proprietary solution for increasing the data density and transmission distances you can get out of traditional voice-based copper wiring. ActivReach switches are specifically designed to give you a significant speed boost without the need for rewiring, potentially knocking huge costs off of your upgrade bill.
It even supports Power-over-Ethernet, also over traditional wiring.
We should note that because ActivReach is a proprietary data format, inexpensive media converter boxes are necessary at endpoints (such as your wireless access points) to translate the data back into the traditional Ethernet format. These are available as well!

The first ADTRAN switch to utilize ActivReach was the NetVanta 1535p, a gigabit-capable switch for larger businesses with significant usage. The new switch is a budget-friendly solution for smaller businesses utilizing 10/100 connections.
The NetVanta 1235p ADTRAN Switch
The 1235p is a 24-port duplexed Ethernet/ActivReach switch, created to give the most possible flexibility to smaller businesses looking to expand their network over the next few years. The NetVanta 1235p allows any combination of Ethernet and ActivReach connections, as well as including four SFP optical ports and support for both Layer 2 and Layer 3 Lite routing.
In ActivReach mode, the 1235p can reach full 10/100 speeds, at distances up to 1,600 feet without the need for relays or re-transmitters, even over legacy telephone wiring!
The 1235p also offers:
802.3af (PoE), Legacy PoE, and PoE over ActivReach

18.8 Gbps switching capacity

Desktop security audits

DHCP network forensics

802.1Q VLANs, Private VLANs and VLAN assignment via 802.1x

Advanced Quality of Service features

Automated actions with Port Scheduler and TCL scripting

VoIP ready with LLDP/ LLDP-MED and voice VLANS

Business-class security with RADIUS, TACACS+, 802.1x and port security

Wi-Fi access controller, centralizing management of NetVanta WiFi Access Points

Cable and SFP diagnostics for troubleshooting

A low, small business-friendly price point
All this is wrapped up with ADTRAN's own AOS software, designed to offer the power of advanced network operating systems in a simple interface that virtually anyone can use. AOS can quickly centralize all your networking operations, overseeing your network from the 1235p ADTRAN switch to your BlueSocket-ready WiFi access points.
Is The ADTRAN NetVanta 1235p Right For You?
There are a lot of choices in switches on the market. The 1235p will be a great solution if you're currently a smaller business, in a building with older wiring, looking to embrace VoIP or other low-bandwidth unified communications technologies.
The NetVanta 1235p is designed to grow with you until you're ready for gigabit Ethernet. if you're already at the point of needing 1Gb speeds for videoconferencing or other data-heavy Cloud apps, we suggest looking at the NetVanta 1535p instead.
And as always, if you're looking for expert advice on how to craft premium network upgrades for your business without paying premium prices, feel free to contact Hummingbird Networks for a free consultation!