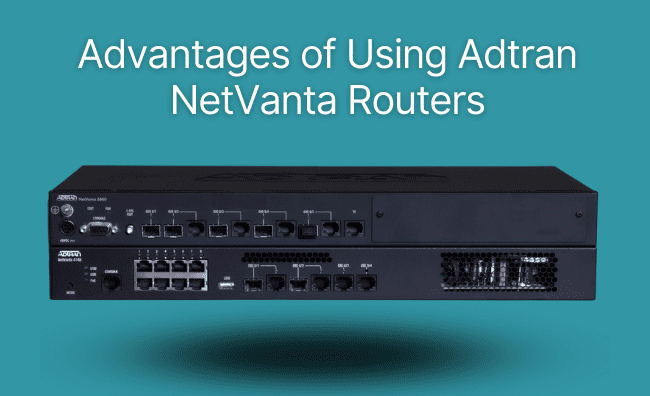 If you're shopping for a capable enterprise router, various factors will influence your decision. They include throughput, security, services, networking standards compliance, price, switching capabilities, and more! ADTRAN designs its NetVanta routers to satisfy the most demanding industry requirements.
The Best NetVanta Routers for Business Networking
The NetVanta 3148 and 4148 models are the latest in a long line of reliable devices. They are high-performance, fixed-port Ethernet routers that enhance voice services and converged access. Other shared features include an 8-port Ethernet switch and four autosensing Gigabit interfaces.
The 3148 model is appropriate for secure corporate internet access,
supporting up to 500 Mbps of carrier bundled services. You can also upgrade it to handle 300 SBC calls. Model variations include the NetVanta 3148 with VPN for additional security and the 3148P with VPN and a PoE Ethernet port that can deliver 200 watts. Depending on your needs, you can pick a 3148P with or without a VPN.
The NetVanta 4148 is suitable for businesses providing carrier bundled services of up to 1 Gbps and can process a maximum of 1000 SBC calls. ADTRAN also has the 4148P, a variation that delivers 200 watts via its PoE Ethernet switch.
In addition to these two models, ADTRAN also offers the NetVanta 3140 enterprise router. Although not as feature-rich, it is suitable for several applications that require Ethernet redundancy. The 3140 has a variant with an in-built VPN and VQM support.
Advantages of Using ADTRAN Routers
ADTRAN routers offer the flexibility needed for varying use cases. They're reliable and durable in industrial environments but easy to configure for offices. They also have flexible mounting options, including racks and walls.
Another advantage is their 200-watt PoE Ethernet switches, which can support high traffic levels. NetVanta routers ensure network stability by providing enough power for all in-built PoE applications. They also have an intuitive GUI and a CLI for easy installation, configuration, troubleshooting, and updates.
NetVanta routers provide good value for money compared to alternatives with similar features. Your business will enjoy versatility, high performance, and reliability at a more affordable cost. North American purchases are eligible for a warranty of up to five years. These benefits guarantee a positive return on investment.
How Do NetVanta Routers Optimize Network Performance?
NetVanta enterprise routers enable efficient network management in the following ways:
Dynamic bandwidth allocation, which distributes bandwidth depending on real-time needs.

Compliance with standard routing protocols, including RIP, BGP, multihoming, and PIM Sparse Mode for multicasting. The ADTRAN Operating System (AOS) enables flawless integration with other devices running the same software.

Hierarchical Quality of Service (QoS) for bandwidth-heavy applications such as video on demand, IPTV, online gaming, and VoIP. This feature ensures optimum performance during limited network capacity.

NetVanta routers are compatible with industry-leading switches, call agents, and other networking solutions. This convenience eliminates network problems arising from friction between different brands.

Cybersecurity standards to prevent unauthorized network access. AOS includes a powerful stateful inspection firewall that identifies and guards against common attacks. They include IP spoofing, ping-of-death, TCP syn flooding, ICMP redirects, and other Denial of Service (DoS) attacks. AOS also has an in-built URL-filtering feature that allows you to block harmful sites.
NetVanta routers include the option for ADTRAN's n-Command platform that enables remote management by simplifying devices' discovery and mass configuration. It also facilitates firmware updates, backups or restorations, and inventory reports.
Consider an ADTRAN Router for Optimum Performance
Hummingbird Networks is your source for the best IT products. They include NetVanta routers that provide premium enterprise networking solutions at an affordable cost. Apart from complying with the latest standards, their scalability will benefit your growing business for several years. Our highly skilled technicians assist with installation, configuration, and maintenance. Contact our team of specialists today with any questions!