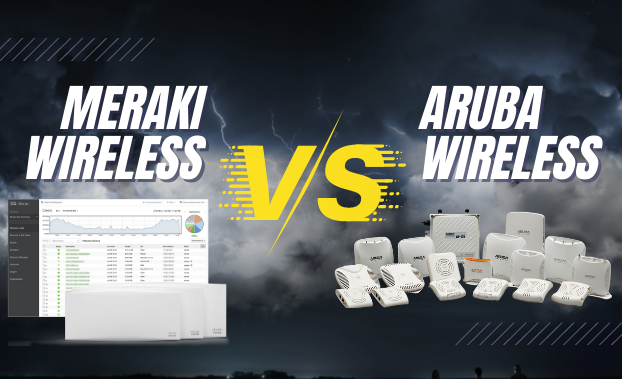 Security, reliability, and scalability are some of the factors to consider before installing a home or small business network. Cisco Meraki Wireless and Aruba Networks are among some of the ideal network solution providers. It is always a good idea to conduct a thorough analysis of each brand's features, strengths, and weaknesses before making an appropriate choice. An Overview of Aruba Wireless Solutions
Aruba's wireless solutions are affordable, easy to configure, and suitable for all size business requirements. In addition to its flagship product Aruba Instant, in 2019 Aruba launched a sub-brand called Aruba Instant-On - which is focused more on small businesses and WFH users and gives great value for an enterprise-class product. Its intuitive mobile and desktop configuration dashboard facilitates business Wi-Fi setup in a few clicks with little or no networking experience. You can also manage and monitor the network remotely from any device.
Aruba's range of access points includes desk or wall, indoor, and outdoor options. It offers instant access points (IAPs) to create a robust end-to-end wireless mesh in combination with Aruba switches.
The biggest difference between their standard line and the Aruba Instant-On family of products is the limitations and configuration options. If you have a deployment with just a few AP's, a few users, doing basic office/internet browsing, or home office, then Instant-On is the right way to go. If you have multiple sites, each with multiple APs, and you want to manage all sites under one dashboard with an entire suite of enterprise features, you may want to consider the standard Aruba line.
Overview of Meraki Wireless LAN
Meraki's cloud-managed wireless solutions optimize performance depending on your traffic, capacity, and
overall networking needs. Its security features include identity-based access control, automatic firmware updates, in-built DNS protection, multi-site management, automatic policy enforcement, and much more.
The Meraki Wi-Fi ecosystem also enables integrations with several applications. MR series access points work flawlessly with the platform's cloud-managed switches, security apps, and IoT devices such as sensors and security cameras. It is truly a "full-stack" experience under one dashboard. No limitations, full control. It is the gold standard when it comes to cloud network management.
Meraki also has an entry-level system called Meraki Go. This was purpose-built for very small businesses or home office users. As of this date, there is only a mobile-based application to control the access points. AP models are currently limited but we expect that line to expand at some point.
Comparisons Between Meraki Wireless LAN and Aruba Wireless Network
We can categorize these comparisons as follows:
1. Network management
Aruba network management offers maximum flexibility: cloud, controller-based, and VM-based control. This may be important to some administrators, however, there is a limit on how many AP's (thousands) you can have on each controller. For small or medium deployments, size limitation is not really an issue. Keep in mind that the cloud license or controller cost is in addition to the AP hardware prices.
On the other hand, Meraki's dashboard only supports enterprise cloud management. No other controller options. The industry is moving in the cloud direction for most or all IT management. Meraki built its platform years ago from the ground up in the cloud, where others are just starting in this arena. You can not program or configure Meraki devices locally, it is all controlled with a license (additional cost) and through their mobile app or renowned Meraki dashboard. Meraki supports up to 10,000 APs per network.
Meraki hosts its cloud-based wireless controller in multiple data centers, which provides automatic failover.
Aruba doesn't 'require' a license as Meraki does, but for an additional cost, you can manage Aruba AP's from the cloud via the Aruba Central dashboard.
You can configure both cloud systems for basic deployment in under an hour and both have plug-and-play APs. It certainly helps to have previous network knowledge to configure any of these systems. If you are completely new to networking, we suggest the Aruba Instant-On or Meraki Go platforms, as those are specifically made for non-professional IT personnel and have great wizards to guide you along the way.

2. Performance
Both Meraki and Aruba access points have nearly identical technology and radio specifications. They include multi-gig ethernet, dependable PoE, and high indoor and outdoor performance. Some outdoor models have external antenna options as well, so you can choose which antenna is best for your deployment needs. Advanced features such as BLE are also available on certain models. Both brands offer WIFI 6 at the time of this article and expect WIFI 6e models to arrive any moment.
3. Support and maintenance
You can't use a Meraki product without a license. However, that license gets you a few key things for your money. A Meraki WAP license includes 24/7 technical support, automatic firmware updates, NBD hardware replacement (with options for 4-hour same-day hardware replacement), and new feature enhancements in the software. Outdoor APs have a one-year warranty, while most indoor versions have a lifetime hardware warranty.
Aruba takes a different approach and varies by Instant-On and varied if you are in a hardware controller environment or controller-less environment. The Instant-On line has a lifetime warranty on the product, however without purchasing their Foundation Care extended warranty program, you get 90 days of phone support. Chat support is offered for the entire warranty period.
Standard Aruba Instant AP's in a controller-based network has a limited lifetime warranty and is the same for 8x5 Technical support. However, when it comes to software OS releases, you only receive 90 days of bug fixes. In a controller-less network, you will get periodically updated software OS releases. In short, Foundation Care is almost a requirement and an additional cost.
It would be best to compare the TCO (Total Cost of Ownership) between the 2 systems, depending on your needs.
Conclusion
The decision to deploy Meraki Wireless LAN or Aruba Wireless Solutions depends on various factors, including cost, scalability, networking skill-set, and network complexity. Our highly skilled technicians at Hummingbird Networks will help you make the right choice after a comprehensive analysis of your needs. Contact us today to enjoy discounts and bundle pricing on high-volume orders.