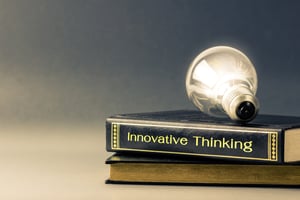 In just a few short years, Meraki has become one of the most important players in modern business networking. This Cisco-owned line of networking appliances is now acknowledged as the king of distributed networks, with a hybrid virtualized\cloud architecture which eliminates the scaling problems associated with previous "controller-less" network designs.
Thanks to their cloud-based centralization, Meraki hits a combination of power and ease-of-use that goes well beyond any competitor. The most advanced network architecture on the market is also so simple to use and administer that even startups and newcomers can hop on-board.
And the new MS350 Meraki switch would be a perfect way to accomplish just that. The latest addition to the Meraki Layer 3 switch line is positioned for growing SMBs who need plenty of power and options for future expansion.
Let's take a look...

Hummingbird Networks First Look: The Meraki MS350-HW
The MS350 Cisco Meraki switch is a mid-line entry, suitable for a wide variety of businesses. It's enough to power a small network on its own, and flexible enough to participate in a wide variety of roles throughout a larger network. This Layer 3 Gigabit Ethernet switch is backed by an upgraded CPU for improved packet handling.
Typically of Meraki, you don't have too many hardware options: You can get the switch with either 24 or 48 ports, with optional PoE. Additionally, on the 48-port Meraki PoE switch variations, you can choose between 370W or 740W power supplies. Optional secondary power supplies can also be added, and there's room for an additional field replaceable fan as well.
All hardware versions have four separate SFP+ uplinks, and unlike previous models, the switch also includes a dedicated physical interface management port in the back. In some configurations, this frees up one copper port.
The most notable addition to the switch is a new feature for the Meraki line: Physical stacking ports. While virtual stacking has long been a hallmark of the Meraki architecture, now up to eight Meraki MS350 units can be stacked into a single logical unit with 160Gbps of switching capacity. This delivers a significant speed improvement over virtual stacking, and makes it even easier to expand your network's capacity.
In a nice touch, every switch in this line also comes with an included stacking cable, ensuring you're ready for expansion without additional cabling required.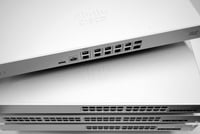 Great Standard Meraki Features
This switch still carries on everything that makes previous Meraki switches great, with a range of features bringing power and flexibility.
You get full Layer 3 dynamic or static routing, with DHCP relay and DHCP server options. It supports DHCP failover as well, plus VRRP warm spare redundancy protocols. Its self-aware diagnostics allow for live automatic cable and gateway monitoring. Smart PoE services bring intelligent automated power distribution. Onboard text alerts notify the administrator of any trouble in the system.
Like all Meraki products, the Meraki Dashboard single-pane-of-glass interface allows for quick and easy oversight and configuration of the entire network. You can work at either a global level, or a per-device basis, with Layer 7 app-level customization.
The switch requires its own license to operate, but with a Meraki license you get more than just software access: You also get a full lifetime hardware warranty, plus lifetime technical support. There's no need to pay extra for support.
MS350 Cisco Meraki Switch: A Powerful Choice
Whether you already have a Meraki network, or looking for your first purchase, this switch makes a great option. Its mid-tier positioning allows it to work equally well as a backbone or support device.
To learn more, just ask Hummingbird Networks about Meraki switches.