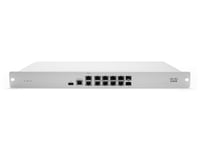 Even though Meraki is focused on distributed mesh-based networking with a cloud focus, that doesn't mean they're slacking off on the hardware! With the new MX84 Meraki firewall and security appliance, they've greatly improved on their previous mid-tier firewall with a number of new features and a lot of additional power.
The MX84 is positioned to take over for the previous MX80, which has been discontinued with the release of the new meraki firewall.. You won't be missing anything: The MX84 improves on the older model in plenty of ways, while remaining at the exact same price point.
Hummingbird Checks Out The Meraki MX 84-HW Firewall
The MX 84 is an almost across-the-board update to the old MX80, with several hardware features that stand out immediately:
A much faster CPU, delivering 2-3x the packet processing speed

Two dedicated WAN ports, rather than one

Eight Gigabit Ethernet ports, doubling the old tally

Two additional SFP+ ports

Double the firewall throughput: Up to 500Gbps
The old MX80 was a bit lacking in features, and tended to slog at high user levels, so this new revision seriously beefs it up and puts it firmly in mid-tier performance levels. It can now easily keep up with the recommended 200 maximum clients, even in high-usage scenarios.
You still get all the great features common to Meraki security appliances. Besides the stateful inspection firewall, it also features auto-configuring site-to-site VPN services, as well as IPSec client VPN options. Their automation makes it one of the easiest VPNs to deploy on the market. Identity based policies can also be easily configured, a must-have for BYOD environments.
You also get additional traffic-shaping options for your Cisco Meraki network. There's full Layer 7 app visibility with per-app security and network configuration, as well as built-in web caching for additional bandwidth savings. It can also automatically choose between the two WANs depending on traffic type.
Meraki License Options For The MX 84-HW
While most Meraki devices only have one license type, with terms ranging from 1 to 10 years, their security appliances give you the choice between a basic enterprise license or the Advanced Security License.
The advanced license adds several additional features, most notably full anti-phishing and anti-malware services. Smart anti-intrusion systems add another layer of protection against direct attack. Like the rest of their software, these systems are kept automatically up-to-date, freeing your administrator from the burden of keeping up with updates manually.
Additionally, you get full content filtering options, complete with compatibility with Google SafeSearch and YouTube For Schools, making it a great choice for environments where the content needs to be kept strictly G-rated.
No matter which Meraki License option you choose, you get a full hardware warranty for the length of the license term, with next-business-day replacements in most situations. Your license also brings unlimited technical assistance, with no additional support costs.
And Speaking Of Licenses...
As a side note, here's a bit of good news for anyone who might have purchased the MX80 recently: Its license can be used with the MX84 instead. So if you're interested in upgrading to the newer hardware, you can save on additional Meraki licensing costs by continuing to use your existing license until its expiration. Please note that we do not know how long they will allow this.
This should make the affordable new firewall even more attractive to existing Meraki owners.
The Cisco Meraki MX-84: Great Mid-tier Expansion
The new firewall is positioned to work well within a wide variety of growing SMBs, with plenty of room to grow and now with the power to keep up with high-demand environments. We heartily recommend it for existing Meraki networks. While the MX84 is ideal for any sized company, if you have less than 50 users ad want a more scaled down version in price then we recommend the Meraki MX64.
To learn more about the MX84 firewall, just contact Hummingbird.