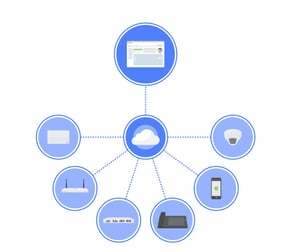 Meraki now officially has the "full stack" with their latest product line- Meraki Security Cameras.The new MV Security Cameras are exactly what you would expect from Meraki: sleek, cutting-edge, easy to deploy and cloud-managed. One of the best parts about this surveillance system is that it eliminates the need for complex extra systems such as additional on-premise hardware, standalone software packages, and external recording devices.

MV cameras are suitable for deployments of all sizes from 1 camera to 1000+. They are also great for businesses with small IT teams or multiple locations because they have zero-touch deployment and can be managed virtually anywhere through the Meraki Dashboard. Through the Meraki Dashboard you can easily drag and drop camera feeds to create your own customized viewing that is shared across all users' screens.

The MV21 and MV71 Cloud Surveillance Cameras
The MV21 (indoor) and MV71 (outdoor) security cameras have high endurance on-camera storage reducing bandwidth usage and eliminating concern should the network fail. All that is required to keep the cameras recording is power, even if the network goes down, adding another level of protection from hackers.
Each camera ships with its own wall and ceiling mounts and can be powered with a standard Ethernet cables and PoE+. The MV21 indoor security camera includes adapters for streamlined attachment to ceiling T-rails. The MV71 outdoor camera has integrated heating elements built-in for low temperature environments. Both the MV21 and MV71 have integrated night vision, infrared(IR) illumination of up to 98 feet, and vari-focus lenses allowing them to deliver clear and continuous surveillance no matter where they are placed.
Granular Control and Visibility
Meraki cloud surveillance systems are optimized to eliminate noise and false positives allowing you to zero-in on relevant events with little effort, but really would you expect anything less from Meraki. With the customization options through the Meraki Dashboard you can quickly and easily change the viewpoint of the camera from virtually anywhere and monitor specified areas across multiple locations.
The MV motion indexing offers some really advanced security features. You can quickly find segments of the recording that are of interest to you even through hours of recording. With the motion based indexing feature you can narrow in on a particular item such as a car and narrow your recording down to only include when the car was visible in the scene. If something were to go missing you could quickly narrow down and see when it was taken and who was responsible. The simple exporting tools allow you to share this information with security staff or law enforcement easily.
Easy to Install and Deploy
Through the Meraki Dashboard you can begin to configure the cameras even before the hardware arrives and once they do they can be up and running within minutes. The cameras don't require any tools to adjust the lens or to attach to the mounting brackets. Like with all Meraki products you will need a Meraki License in order to access the Dashboard. The MV enterprise license comes in 1,3,5, 7, and 10 years and includes 24/7 end user support, software updates, 3 year warranty, and next business day hardware replacement.
Cloud Management and Storage
The security cameras have up to 20 days of integrated built-in storage and automatically sync recordings to the cloud. You can easily control who sees what by tailoring viewer controls for each user on a granular level. This helps you to prevent security settings being changed and limits the view of other users. The simple cloud management lets you troubleshoot issues remotely and manage devices through a web browser.
Secure and Automatically Updated
The security features on the cameras are great with the granular access and control but taking it one step further, all access to the cameras is encrypted with a PKI for individual cameras and a 2 factor authentication process. With the Meraki license subscriptions software and security updates are automatically pushed out to all cameras.
MR84 Meraki Access Point
Meraki also announced a new access point, the MR84, and new Wi-Fi Antennas, MA-ANT-27, MA-ANT-25, and the MA-ANT-20. The MR84 is an 802.11ac wave 2 outdoor access point designed for high density environments such as large organizations, stadiums, and campuses.
The AP has 4x4:4-stream MU-MIMO and 160MHz architecture allowing it to work faster in deeply saturated environments. The Layer 3 roaming is great for networks that come into contact with thousands of devices a day. The IP67 rating means the access point can withstand harsh environmental elements.


MA-ANT-27
The MA-ANT-27 Meraki WiFi antenna, designed for the MR84, delivers superior signal strength. The dual band sector antenna features support for 2.4 GHz and 5 GHz. The 9-12dBi allows for consistent connection even when there are obstructions of the signal.
Be sure to contact us to learn more about the latest Meraki product additions or get a free trial to test in your own network.