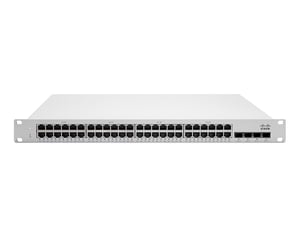 It's been a busy month for Meraki! Along with the new 802.11ac Wave 2 access points we discussed previously, they've also announced two new lines of stackable high-end switches intended for branch and campus usage.
While there's nothing truly revolutionary about these new switches, they're both solid devices that further expand Meraki's reach into higher-end, large-scale networking ventures. They aren't the highest of high-end access switches in the lineup -that's still the MS350 series- they fill a significant niche for larger networking ventures at somewhat lower costs than the MS350.
For those who are concerned about the ability of Meraki or mesh networking in general to fit a variety of roles at the higher end, the MS225 and MS250 should address those worries.


A Look At: The New Meraki MS225 and MS250 Switches


I. MS225
The MS225 could be considered the new "entry level" into Meraki's high-end access switch lineup. All models feature four SFP+ uplinks, along with two stacking ports which allow for stacks of up to 80G. They support virtual stacking as well, via Meraki's mesh networking setup, for simplified management.
As far as options go, you can get either 24- or 48-port Gigabit Ethernet models. The former have up to 128Gbps throughput per unit, and the latter go up to 176Gbps. You can also get Power-over-Ethernet included as well. The 24-port model only supports 370W, while the 48-port versions can have either 370W or 740W support. Smart onboard power systems balance the PoE output based on the needs of attached devices.
Otherwise, this switch is somewhat bare-bones, with no special features beyond those common to Meraki such as built-in QoS support and extensive self-diagnostic tools.


II. MS250
Superficially, the MS250 is similar to the MS225. They have the same basic throughput stats, and the same model variations with 24 or 48 ports and various PoE options. Both switches support stacking up to 80G. (In fact, all Meraki access switches going forward will now support physical and virtual stacking.)
However, this switch adds some features which may be useful in more demanding deployment environments. The MS250 has full Layer 3 static and dynamic routing capabilities, and includes a full DHCP server and relay. Additionally, it has "warm spare" failover capabilities, for mission-critical implementations.
The switch also supports hot-swappable power supplies, another nice feature for can't-fail scenarios.



The Meraki Advantage
What hasn't changed with these new switches is the ease of setup and operation which has become one of Meraki's primary selling points. Their mesh networking system is almost entirely self-configuring. Once initial setup of the network is completed with user-defined options like security settings, the network configuration is uploaded to cloud servers. Past that point, all new devices added to a Meraki network use that shared configuration to set themselves up, while the mesh system balances load intelligently across all connected devices according to their capabilities.
In practice, this means that adding devices to a Meraki network is effectively a plug-and-play proposition, even upgrades that would be time-consuming for other brands like setting up stacks.
The Meraki Dashboard system continues to have one of the best balances between power and ease-of-use we've seen. It's a menu-driven GUI with the capability to oversee the entire network from a single terminal. It's simple to set high-level network-wide policies, or micro-manage individual devices as needed.
As the demands for businesses and campuses for high-quality networking grow beyond their ability to hire experienced (and expensive) IT staff, Meraki offers a user-friendly alternative. A Meraki network has nearly all the power and flexibility of a traditional network, but with vastly lower administrative demands. Nearly anyone with basic computer knowledge can learn to manage a Meraki network.
Ready To Change How You Network?
Hummingbird Networks is a fully-certified Meraki partner, and we can help bring you up to speed quickly and easily. Contact us today to learn more about Meraki, or request a free in-office trial to try Meraki for yourselves.