Meraki Go Security Gateway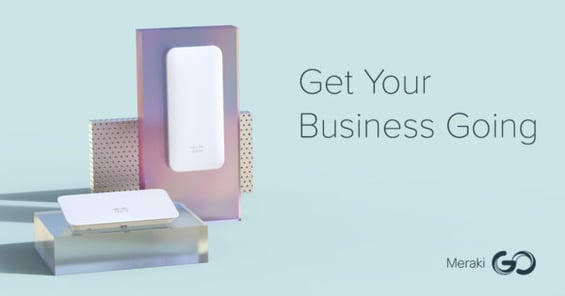 Meraki Go is the easiest solution on the market for startups and small businesses to implement a powerful business-class network - including security! As of a few months ago, a security gateway and network switches have been added to the Meraki GO portfolio - making it the complete networking solution.
Cyber security is all important for businesses of all sizes. You aren't "off the radar" just because you're small. Any business could be targeted by phishers, hackers, or cryptographic ransomware. If you have a business network, you need a solid security solution that will keep you safe - which is exactly what the Meraki Go Security Gateway provides.
This easy-to-implement box provides two-in-one protection for your Meraki Go network. First, it functions as a stateful inspection firewall - meaning it constantly monitors all activity on your network, looking for suspicious activity. If it detects an attack, it will shut down the connection while alerting you. Also, with an optional Cisco Umbrella subscription, it functions as a anti-malware hub, blocking any software on your network that might try to do harm.
As with other Meraki Go products, the Meraki Go Security Gateway is exceptionally easy to set up. Just plug it into your network, in between your
routers and the incoming connection at the wall, then activate it with the Meraki Go smartphone app. The hardware does everything else, all by itself! It will automatically configure itself to work with your other Meraki Go devices.
Then, you can use the Meraki Go app to monitor your network security at any time. You can see all traffic on the network, or set security policies that help keep you protected. In short, it's the perfect solution for small business owners who need a secure network that just works, without requiring technical expertise.
Hummingbird Networks proudly carries the full range of Meraki Go hardware and licenses! Contact us to learn more.
Meraki Go Network Switches
As a small business, your network may need to expand quickly. A simple WiFi router may be enough at the start, but eventually you'll want to add devices that need wired connections, or speeds beyond what WiFi can provide.
Fortunately, Meraki Go Network Switches are both highly affordable and extremely easy to use, requiring no particular technical expertise to operate. They're an excellent choice for smaller businesses that want a robust,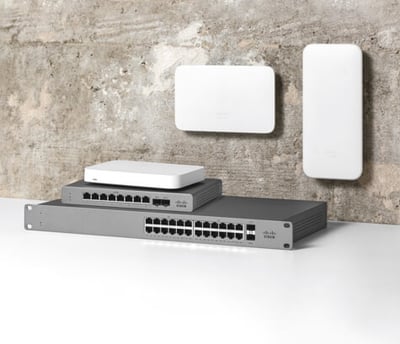 expandable network - but without having to invest in a lot of technical training, or an IT worker.
These switches are so easy to use, they practically operate themselves. You just plug in the device that needs an internet connection, and the smart onboard software makes everything else simple. With Meraki Go Network Switches, you can quickly add desktop computers, laptops, VoIP phones, "Internet of Things" smart devices, and much more.
You've got three options depending on your needs:
Whichever you choose, they come with multiple Gigabit-speed Ethernet connections, to keep the data flowing under high load. They can go anywhere, as well. Even the larger models can be placed on a desktop, if needed, or in a server rack. You also get support for virtual LANs, to host multiple networks on the same devices, as well as smart Quality-of-Service features that prioritize apps like VoIP phone calls that require stable connections.
Plus, you can monitor everything your network is doing, across every port, simply by accessing it through the Meraki Go smartphone app. There's no simpler way to manage a business network, while still enjoying full business-class service.
Hummingbird Networks carries a full line of Meraki Go hardware and licenses. Contact us for a full consultation!