We've always been impressed at Meraki's commitment to making business network as easy as possible, without compromising power or security. Well, they're now pushing the limits of "plug and play" WiFi further with Meraki Go. Meraki Go is their new initiative to provide state-of-the-art WiFi systems intended for very small businesses that lack any IT experience.
Business-Grade Wireless Gets Even Easier With Meraki Go
You don't get a clearer value proposition than this: Meraki Go is the easiest solution yet created that allows small businesses to implement state-of-the-art 802.11ac Wave 2 wireless networks. From the moment you open the box, it shouldn't take more than five minutes to have the system fully configured and ready to go.
The Meraki Go units themselves are small and unobtrusive, only about the size of a phablet. They can attach directly onto the wall or ceiling, utilizing omni-directional antennas to instantly create a bubble of coverage that is large enough to cover your local environment. Within their small package, they've got both 2.4ghz and 5ghz radios, and allow for 2x2 MIMO access - meaning more users can access concurrently without seeing slowdown. Up to Gigabit speeds (real word is about 800Mbps) ensure your customers get the hardy connections they expect from a modern business.
Meraki Go also offers both indoor and outdoor units, so there's an option for any type of deployment. The outdoor models are rated IP67 - meaning they're proofed against most types of wet weather or dust storms.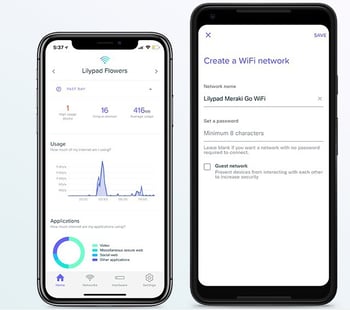 In the meantime, everything involving configuration is handled by a simple Meraki Go app (available for both iOS and Android) which you download to your smartphone or tablet. The interface of the app is genuinely remarkable in how simple it is, with a "thumb friendly" design that makes it easy to use even on smaller phones. Yet you still get all the major features you'd expect from enterprise equipment. This includes:
Setting up multiple WiFi networks, with separate SSIDs, so you can segregate your guests\customers from your own network.
Simple setup of access permissions.
Website blocking, to prevent access to inappropriate or potentially harmful materials.
Usage limits, to prevent a single user from hogging the bandwidth.
App prioritization, to ensure your critical business apps such as Square or Quickbooks always get the bandwidth they need.
Easy management and oversight of usage from day-to-day.
While usage of Meraki Go does require a yearly subscription to Meraki Cloud Services, you get a lot for your money! You'll automatically get all software updates needed to keep your device secure, without having to worry about installing them manually. Aside from enabling their unprecedented ease of access, you also get unlimited technical support through the app. however support hours are limited. The Meraki Go Community features a plethora of knowledge and is continuing to grow daily.
All Meraki Go equipment also includes a 1-year hardware warranty.
WiFi Has Never Been Easier Than This
We're excited about Meraki Go. Like a lot of networking companies, we struggle to find hardware that's appropriate for small businesses who lack any technical networking knowledge - particularly if those businesses also want top-of-the-line products. Meraki Go solves this problem. It's all the power of enterprise-grade WiFi, in a package that anyone can understand and utilize.
To learn more about Meraki Go, fill out the form below.