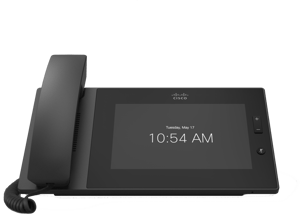 Meraki keeps surprising us with their ever-expanding range of options, and their newest product is certainly a surprise coming from a company which had previously only produced networking appliances. The new Meraki MC74 is the first entry into the Meraki Communications line of VoIP/SIP phones, attempting to bring the ease of Meraki to the world of Unified Communications.
The phone is certainly beautiful and bound to turn heads whenever it's spotted on desktops... but is it the magic bullet for integrated desktop communications that Meraki hopes? Let's take a look.

The MC74 Meraki Phone: Graceful Ease-of-Use
There are certainly plenty of good things to say about the new Meraki phone, starting with its overall design. With a sleek look that seems inspired by Apple products and other 'futuristic' solutions, it looks amazing and backed up by a truly impressive 7" full-color touchscreen as the main interface. No executive or employee is going to turn their noses up at this desk phone.
True to Meraki's word, it is exceptionally easy to use. The onboard GUI is one of the clearest and most intuitive that we've seen, complete with nice touches like having it flip to the 'dialing' screen when the phone is lifted off its magnetic-sensor base. The big screen leaves plenty of real estate for an easy-to-use menu system.
It also incorporates a built-in Ethernet switch with GbE port for daisy-chaining, as well as ports for both USB peripherals and 3.5"-port cellphone headsets. It's compatible with most existing headsets available.
Things are even nicer on the administrative side. Like all Meraki products, the MC74 Meraki SIP / VoIP phone features zero-touch deployment in existing Meraki environments. It's arguably the first truly plug-and-play UC phone system. All configuration is handled through the Meraki Dashboard, with the same intuitive interface used to control every other Meraki device. Even complicated tasks like setting up IVR or conference-calling features are easy to handle, even for networking newcomers.
In short, it does everything it claims to with aplomb. That said, there are some issues with it that may not be deal-killers, but hold it back from its full potential.
What The Meraki MC74 Doesn't Do
When someone sees that giant screen, they're probably going to think "Wow, the videoconferencing on this thing must be great!" Except... there's no camera or other video support. It is strictly a voice phone, with the screen solely there for the GUI. Presumably Meraki will be introducing higher-end options with video features in months to come (none have been announced yet) but it seems like a strange oversight for a product attempting to position itself at the forefront of business communications.
Also, unlike many other UC solutions on the market, there's no outside app support. It has some nifty features for integrating it into the overall Meraki Communications network, but it's missing standard options like HTML, XML, or Java support which are commonly used to expand the functionality of other UC phones.
That makes it a somewhat bare-bones solution, especially given the premium price tag. And speaking of which...
Like other Meraki products, the phone requires per-year licensing to operate, which (depending on the bulk ordered) is going to work out to around $100-$150 per year per phone. Additionally, it's only compatible with Meraki-approved VoIP providers, of which there is currently only one. It only costs $8.99/mo for unlimited voice, which is quite cheap in the abstract, but those savings are basically swallowed up by the licensing fees.
Of course, licensing also brings a lifetime warranty and hardware replacement. Still, it seems harder to justify when talking about a phone rather than network hardware, especially since Meraki can already work with a range of existing VoIP solutions.
A Good Step Forward
Basically, we love the idea behind Meraki Communications. Hopefully, in the months to come Meraki will release more phones that add more value. In the meantime, the MC74 will probably appeal most to businesses who prioritize its ease-of-deployment and usage, even without some standard bells and whistles.