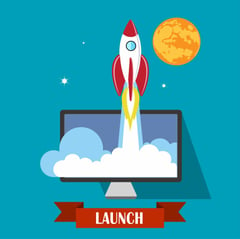 Cisco Meraki made some exciting announcements today introducing a whole new line to their portfolio and major expansions to their current lines. They introduced Meraki Communications which brings all the things you love about Meraki cloud management to VoIP phone systems.
They also announced the release of two new 802.11ac Wave 2 Meraki access points with multigiabit capabilities that will be able to fully take advantage of the high performance of Wave 2. The Meraki switch line received two additions today as well, the MS350 and the MS425.
Meraki Communications: MC74
The MC76 is not only the flagship phone in the new Meraki Communications line, it delivers smartphone capabilites to the business phone system world. This sleek new desktop phone provides a premium phone experience with it's 7" screen, interactive voice response, and magnetic handset that sinks right into place. The simple user portal brings an impressive end-user experience allowing you to access essentials such as phone numbers, call logs, and voicemail even when you are away from your desktop phone. You can conveniently sync your contacts and CRM with App integrations from Google Apps, Salesforce and more.
The MC74 provides single pane of glass management through the same Meraki dashboard you know and love. You can easily add phones, view call logs, see connectivity, and address issues all through your web browser. Through the Meraki Dashboard you can upload a floor plan and assign tags to each extension to quickly identify all connected phones. As with all Meraki products you can scale up to 10,000 units in a single network, including phones.
Meraki Multigigabit
Meraki MR52 Access Point
The MR52 is an 802.11ac Wave 2 access point equipped with 4x4 antennas and 4 spatial streams. The AP provides support for 160 MHz channels and multiuser mimo allowing it to really take advantage of the high performance of wave 2. It has a built in scanning Bluetooth LE radio enabling beacon engagement which is great for locations that provide guest access to customers. Using the Bluetooth location awareness you can see if your customers enter a certain space and send out engaging marketing material right to their device.
Perhaps the best feature of the new AP is the multigiabit Ethernet interface. Multigigbit increases the maximum speed of networks beyond 1G and has been a part of the Cisco product line for a while now. The MR52 is the first one to incorporate the mulitgigabit interface for the Meraki portfolio. With multigigabit Ethernet interface, the MR52 provides a solution to bottlenecking and allows you take advantage of the existing cabling.
Meraki MR53 Access Point
The second addition to the Meraki access point line is the MR53 which also supports multigigabit as well. The MR53 has 4x 4 antennas with 4 spatial streams and is capable of 2.5 gigs of support.
Meraki Switch Additions
Meraki MS350-24x Switch
The Meraki MS350-24x is a stackable multigigabit layer 3 switch that can easily stack with the other switches in the Meraki 350 series. The MS350 is capable of pushing out 10gigabits, designed to work with and support the mulitgigabit MR52 and MR53. The switch has universal Power over Ethernet providing up to 60 watts of power on a single cable connection.
Meraki MS425 Switch
The MS425 is a next generation 10 gigabit aggregation switch designed to support the new mulitgigabit access points as well. The MS425 is a refresh to the Meraki MS420 switch line and comes in 16 or 32 port fiber aggregations. Each switch has two 40 Gigabit SFP+ uplinks and 10 gigabit SFP ports.
Meraki is quickly claiming the "cool kid" spot of the networking world and for good reason. Their advanced cloud management platform and ease of use are unparrelel. Today's new additions will take the Meraki product portfolio to a whole new level. Interested in Meraki? Contact us, or register for a free trial to see the benefits your self.