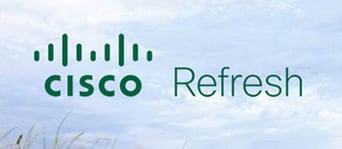 Remanufactured to Cisco's exact specifications, Cisco Refresh networking equipment carries same warranties as new, delivering peace of mind along with far lower TCO.
We are proud to now offer Cisco Refresh products on our site with available inventory being updated daily. Refurbished Cisco Products obtained under the Refresh program carry the same guarantees as brand-new Cisco networking equipment, while delivering discounts of up to 80% compared to standard pricing. As one of Cisco's certified Partners, we are ecstatic about the wealth of options this program opens up.
"We're happy to say that we now have a full line of carefully remanufactured, fully guaranteed equipment available to our clients through Cisco's new Refresh program," Hummingbird Networks representative John Ciarlone said, "This important refinement of the popular Cisco Certified Refurbished Equipment program improves on its predecessor in a number of compelling ways. This new option is already delivering Cisco's famed peace of mind to many of our customers, while endowing them with valuable budgetary flexibility and notably lower overall ownership costs."
A major force in the technology world for decades now, networking equipment manufacturer Cisco today employs about 75,000 people and rakes in average annual revenues of around $50 billion. The company's carrier-grade networking routers and other products power much of the Internet, with its Ethernet switches alone commanding a 60% global market share.
By participating in the exclusive Cisco Refresh remanufactured program, we open up a wide variety of appealing new options to you. Designed to build upon the success of the earlier CCRE refurbished equipment program, the new Refresh initiative channels products through certified Cisco Partners like Hummingbird Networks, ensuring that buyers will enjoy expert advice and service as they select and deploy their new networking assets.
With over 3,500 products now available under the Refresh program, we believe that the value on display will have many giving Cisco's offerings another look, even when the high-end manufacturer's equipment might have been written off for budgetary reasons in the past. Every Cisco Refresh product undergoes thorough inspection and remanufacturing by trained Cisco engineers and carries the same warranty as a corresponding new product. The Refresh program will provide our customers even more widespread access to what are commonly regarded as some of the best and most reliable networking tools available.
Have any questions about the Cisco Refresh program? Please don't hesitate to contact us.