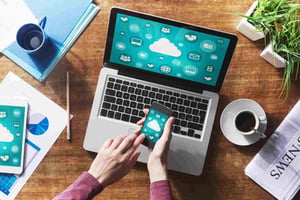 Are you thinking it's time to move towards a next-generation network with a single unified cloud management platform for administration?
It's a great time to be investigating. Cloud-based network management has reached a point of maturity and stability that makes it a safe bet for SMBs to invest in. With more networking companies jumping onboard every year, it seems that unified cloud management is the current future of the industry.
So today, we wanted to take a quick look at the three most popular of these cloud management platforms among SMBs, Meraki, NETGEAR, and ADTRAN, with some notes on their pros and cons.
A Quick Guide To The Major Cloud Management Platforms
Before we get started, one thing is worth mentioning: All three platforms are excellent pieces of software, with similar functionality, and could almost certainly meet your needs as SMBs. There isn't a clear-cut "winner" here.
Meraki

Dashboard
Meraki is owned by Cisco, and displays their pedigree proudly. But unlike Cisco-branded products, Meraki is priced to be affordable for businesses of every size, entry-level included.
Pros:

The most scalable of cloud management platforms, with effectively unlimited devices potentially connected.

Supports the widest range of hardware types, including physical switches and firewalls, with higher-end options than the competitors.

Lifelong free tech support, software updates, and hardware warranty coverage while licensed.

Backed by Cisco,

Meraki's

long-term stability is practically assured.

The widest range of options, including Layer 7 visibility and configuration.
Cons:
Requires yearly licensing for all functionality; hardware is useless without it.

License prices start cheap on entry-level equipment, but scale rapidly.

While much easier-to-use than Cisco

IOS

, the number of options in the

Meraki

Dashboard can be overwhelming to newcomers.
NETGEAR

Business Central
NETGEAR has honed their skills in the consumer world, but is now impressing with a full line of SMB networking products, along with some large-business offerings. They're often the most affordable option on the market.
Pros:

Inexpensive licensing.

The easiest-to-use management center, with a strong user focus.

90-day free trial available for all

ProSafe

AP owners.
Potentially supports 200,000+

APs

.
Cons:
Only supports\manages WiFi devices at this time.

Interface is somewhat stripped down, with fewer options.

Technical support is less hands-on than alternatives.
ADTRAN

ProCloud
ADTRAN was the first major pioneer in "controllerless" WiFi management, and has a strong following. They're firmly aimed at SMBs, with relatively few high-end offerings beyond some excellent 802.11ac access points.
Pros:

Small licensing fees for basic cloud management. However tech support, extended warranties, and

ProCloud

Plus services cost extra.

ProCloud

Plus service includes 24/7 direct monitoring and management by

ADTRAN

experts.
Best-in-class technical support.

Industry-best Service Level Agreements.
Cons:
While

ADTRAN

is introducing new higher-end physical switching hardware, their focus is still largely on WiFi.

Scalability is somewhat limited past the 2000+ AP deployment

As the youngest brand, with the least brand name recognition, many are weary of their long-term stability.
The Bottom Line
As we said above, all three platforms are excellent and easy-to-use. For basic WiFi management, any is fine. Otherwise, the big selling points are that Meraki allows for the widest range of hardware and long-term scalability, ADTRAN has the lowest TCO if you are happy with basic services, and NETGEAR gives you a generous 90-day free trial before making any commitments.
And if you're looking for more information, please don't hesitate to contact us! We'll be happy to give you a free consultation where we look at your business plans in depth and help you pick the right cloud management platform for your needs.