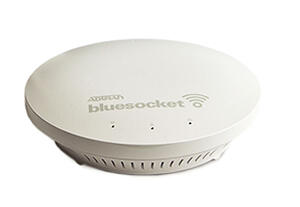 Wireless technology has become a standard feature of any enterprise network. The ways that this technology has improved office productivity and convenience are literally countless, however the scope of a wireless network has always been limited by the hardware that controlled it. Until now.

With ADTRAN's series of controller (less) wireless access points, the next generation of WLAN solution has arrived ane the most secure and best wireless networks will now be controller-less.

Based on ADTRAN's groundbreaking vWLAN technology, Bluesocket controller (less) wireless access points make it simple to design and implement a more effective and useful WLAN solution. Previously, wireless networks were only as powerful as the hardware that controlled them, and as the demands of the network grew - i.e. more users and bandwidth requirements - hardware controllers had to be upgraded or replaced, creating a significant expense.
Bluesocket wireless access points do not require a hardware controller, but rather are managed by software in your organization's data center. One software instance of vWLAN can manage 1,500 access points and 48,000 users, making it powerful enough for even the most demanding of networks.

Aside from simplicity, vWLAN brings with it several other advantages over traditional WLAN solutions.

Scalability
Bluesocket controller (less) wireless access points make it easy to implement a wireless network that will grow with your needs. For instance, if you add a new building to your campus, or purchase adjoining property, you no longer need to purchase additional network controllers to keep up with the needed capacity. And if you find a weak spot in your wireless network, additional access points can be added without worrying about whether your hardware controller can handle the extra load.

This effectively eliminates one of the main challenges of designing a WLAN solution, and allows a much more flexible range of implementation options.

Security
In traditional WLAN solutions, all network traffic had to actually enter the network to prevent attacks only to be screened out at the point of the controller. This left networks vulnerable to all manner of security threats. Every wireless access point is equipped with its own firewall - complete with intrusion detection and worm protection - which screens out unauthorized traffic before it ever enters your network.

In addition, traditional WLAN hardware controllers have always been a major target of cyber attacks, as compromising a controller generally meant compromising the entire network. Eliminating the need for hardware controllers completely takes this threat out of the equation, making your entire network, and every device on it, that much more secure.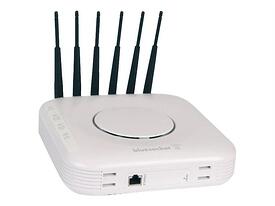 Reliability
All these great features are useless if you can't depend on consistent performance day in and day out, and the series more than delivers in this regard. Reliability is protected by separating the actual data being transmitted over the network from the control data that operates the network. This means that if there is a problem with the network management solution, the access point can instantly switch to a backup without disrupting the flow of network traffic in the least.

In addition, vWLAN technology allows users to move across the network - even across different subnets - without any interruption in connectivity.

These powerful controller less wireless access points are equipped with an intuitive configuration interface, which can be controlled from anywhere - even from another city. Network managers are given fine-grain LAN prioritization and diverse user access control options, making secure and efficient configuration a breeze in even the most complex of networks.

For your business or organization's WLAN solution, you can't go wrong with the Bluesocket series, available in the standard 1800 and the enhanced 1840 (which provides the option to incorporate additional external antennae).
Read more about Bluesocket wireless access points and why everyone loves them.