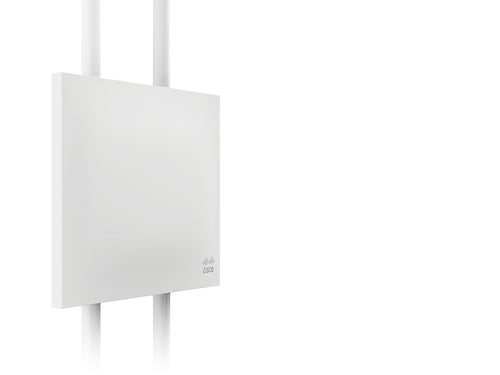 One thing that cannot be denied about Meraki is that they are not content to rest on their laurels. Their lineup of WiFi and other networking devices undergoes frequent updates, with multiple new models coming out each year to ensure Meraki products are always among the top-of-the-line available.
The newest Meraki access point carries on this tradition, but in one of their more niche areas of application. The new Meraki MR74 is one of the best ruggedized and weatherproofed 802.11ac Wave 2 access points available. It might not be the right fit for every business, but it could be invaluable for those that have need of its hardy shell.
A Hummingbird Networks First Look At The Meraki MR74
At heart, the MR74 is not too much different than many 802.11ac Wave 2 devices which have come out in the last year or two. It features a 2x2 MU-MIMO antenna array, with both a 2.4ghz and 5ghz transmitter. It's capable of maximum speeds up to 1.3ghz across both bands, with superior roaming and frequency-selection abilities.
Like many of Meraki's Wave 2 devices, it also has two more radios in addition. One is dedicated to monitoring the local radio environment, and is used for frequency shaping and optimization, along with wireless intrusion detection and prevention systems. The other is a standard Bluetooth radio with full Bluetooth beacon support for direct device messaging.
Where the MR74 stands out, though, is in its thick shock-proof shell and superior sealing. It's rated IP67, near the top of the line for such devices. It's fully protected against impacts and shocks, as well as being sealed against dust and other particulate debris. Its waterproofing would be sufficient to allow it to be submerged in up to a meter of water for half an hour without ill effect, which means it could stand up to virtually any weather imaginable. On top of that, it has much better than average working temperature tolerance, ranging from -40 °F to 131 °F (-40 °C to 55 °C).
The MR74 would, of course, be a great choice for any operation that needs reliable outdoor WiFi coverage but is in an area that experiences extreme weather. Only the harshest winters or most powerful storms could potentially stand much chance of harming it. However, it could also be a perfect pick as an indoor access point for any industrial or manufacturing center which has a lot of contaminants or vapors in its local atmosphere...or even high temps (like a nice warehouse in Arizona) or low temps- such as a freezer.
Basically, if you need a reliable 802.11ac Wave 2 AP which can stand up to a lot of abuse, the MR74 is for you.
The Meraki Advantage
Of course, we can't talk about a Meraki access point without mentioning how easy they are to deploy and use. All Meraki devices utilize the same mesh-based networking architecture which allows them to automatically configure themselves based on shared settings in the cloud. Any configuration which does need to happen can be done in the Meraki Dashboard, which is a single-pane-of-glass interface that gives total access to every Meraki device on the network.
Plus, Meraki devices are self-updating. Any OS, firmware definitions released are automatically downloaded and installed with no administrator intervention required. Updates are completely seamless, and help make Meraki one of the most secure brands of networking hardware available.
If you're looking for a new way to simplify your network and get top-line hardware support, Meraki could be right for you. Contact Hummingbird Networks today to discuss your options in modern mesh-based networking!