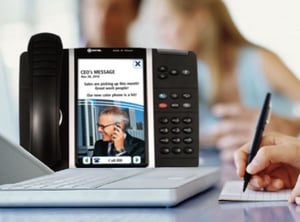 Voice over Internet protocol (VoIP) can do great things for your business. This technology offers
a plethora of benefits for the everyday business, from offering a rich media service to providing phone portability. It can also save your company 80 percent on average call costs, making it an appealing option for all.
Instead of traditional fixed voice lines, VoIP carries voice calls through a data network. A cost-effective solution for new and established businesses, this software merges the following features:
Mobile phone integration

Call forwarding

Call blocking features

Call log records

Adjustable bandwidth server

Auto-attendant

Individualized messages and ringtones

Tech support

Web interface
The Financial Benefits of VoIP
VoIP can lower business costs in a multitude of ways. It eliminates the need to install new phone lines and can hook directly into existing broadband networks. The risks of a security breach shrink when this technology is integrated, due to the fact it can operate with an encrypted VPN connection for maximum security. Downtime and costs are reduced when your IT department manages the business-phone features, such as caller ID, conferencing and voicemail. If you are struggling to save money on toll charges, it's important to assess your phone systems and determine the reasons why you are missing out financially.
Methods for Minimizing VoIP Rates
Don't feel disheartened if you have not had a good return on investment yet, because VoIP can take some getting used to. With so many platforms available, it can be a challenge navigating your way through the technological waters. Phone systems like Adtran Netvanta 7100 provide innovative communication solutions and are aggressively priced. As tempting as certain routers and switches may seem, it's vital that you take your time to find an on-premises phone system with the best VoIP rates.

On-Premises Phone System
This software can be installed and run on computers with wireless access points. It can handle demanding requirements, making it a worthwhile option for bigger businesses. Many people deliberate between the benefits of hosted VoIP systems and premises-based phone systems. While hosted VoIP may have a lower set-up cost, the monthly fees can leave you out of pocket, particularly since the cost is charged per user. On-site servers require a larger initial investment, but there are no recurring monthly fees. This proves that acquiring your own equipment is a more practical solution in the long-run. That being said, hosted VoIP can be a profitable solution for businesses with 1-10 employees.
Least Cost Routing
When you have selected appropriate phone systems, you should start focusing on the features. Least Cost Routing (LCR) is by far the most cost effective option for VoIP and Session Initiation Protocol (SIP) Sessions, because it enables the user to develop customer specific routing, without the need for switchboard programming and diallers. It has numerous advantages over conventional methods, such as:
No installation costs

Suitable for all fax and phone lines

No loss of quality

No call leakage

Lower call rates
In addition to the above benefits, it is possible to add or delete SIP talk paths to the account with ease. This feature enables you to lower VoIP costs further.
Predicting the Scalability of Your Business
Looking into the future is important if you want to reap the rewards associated with VoIP rates. How do you predict your business will look in a few years' time? Is there potential for rapid growth? Maybe you want to keep it small and refined? The answers to these questions will affect what routers and switches you select. When you opt for an affordable on-premises solution, it's a good idea to purchase an appliance larger than is initially required, because this welcomes growth.
Various factors come into play when you seek out a system that offers seamless integration and low VoIP rates. Remember that all phone systems have their weaknesses and strengths; you just need to select one that fits in well with existing technology infrastructure and the unique aspects of your business.