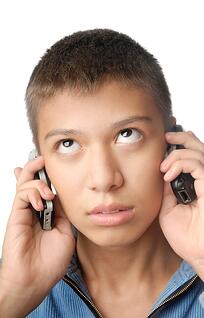 A lot of small and medium sized businesses with older equipment are currently looking at the state of business communications with some trepidation. Network and telecommunications technologies have been advancing at a whirlwind pace, with multiple entire communication architectures in place for businesses to choose between.
So why, with this sort of market diversity, should your business choose to invest in VoIP phone systems?
Voice over IP was one of the earliest major new business technologies created to piggyback upon the Internet. It made perfect sense: voice traffic is fundamentally just data, and the
Internet has a nearly unlimited data capacity, so moving phones onto IP-based systems would mean better service at cheaper rates.
Early experiments had poor sound quality and were unreliable. All in all, it took around a decade for the technology to mature.
However, today, VoIP phone systems are among the most inexpensive and most versatile telecommunications structures in enterprise use today. If your business is still using copper-wire telephone systems and paying monthly long distance bills, it may be time to think about upgrading.
How VoIP Phone Systems Modernize Business Communications
Vastly decrease your communications costs: When we're living in a society where bandwidth is cheap and universally available, there's just no good reason to keep paying per-minute rates with traditional phone services. VoIP service comes with a flat fee, and many higher-end platforms can support calls to virtually anywhere on Earth, still at a flat rate. You could slash your long distance budget by 90%.

Gain system reliability: It's true, ten years ago VoIP systems were hard to use and unreliable. That's not the case today. When paired with a strong business Internet service, modern VoIP services can leverage both your own WLAN as well as the Internet at large to ensure your communications go through in nearly any situation except a complete outage. And, even then, most of the time your internal communications will still work.

Improve your sound quality: Again, ten years ago VoIP service was fuzzy and indistinct. Today, advances in data compression and transportation mean that your communications can sound better than traditional service, with CD-quality sound or better. This might seem trivial, but it will make an impression on anyone who calls you when they realize they never have to ask "What?" due to line noise.

Expand your teleconferences: One of the biggest drawbacks to traditional phone service is that it's strictly a two-way street. On a conference call, only two people can talk at once. With VoIP, there's no limit to how many phones can be used at once in a call, and there are no dropouts as multiple speakers fight for time on the line. If you need workers in California, France, and India on the phone at once, you can do it.

Experience an array of new telecommunications options: VoIP phone systems support all the standard copper-wire phone services such as Call Waiting and Caller ID, as well as adding dozens of new features. Your messaging can become universal, with voicemails being sent as text and MP3 to email boxes, or vice-versa. Adding new lines, extensions, or even entire trunks is simple and can be done within minutes through software. Texting and SMS can be integrated into the system.
This final point is perhaps the most compelling, looking forward. With VoIP systems, there's simply no reason to think of your telephone communications as being in any way different from your data communications. They're all part of the same system and can interact as naturally as passing documents between different components of Microsoft Office is during office work.
That is the real potential for Voice over IP systems for businesses: allowing their communications to be one unified service, consistent throughout their enterprise, allowing a constant data flow between your workers.
With efficiency like that, VoIP phone systems give you far more than your alternatives.