When you begin looking at business phone systems for your company, whether you need to upgrade your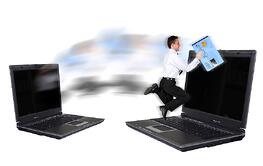 existing system or are building your communications network from the ground up, you have a number of concerns and priorities to consider. Your telephone system needs to be reliable; when you can't connect with your clients and customers, you can't do business. Your system needs to be able to accommodate future expansion as your business grows. It needs to stay current, and thus must be easy to upgrade so that your company can take advantage of new technologies and features that make doing business more efficient. And your system must be cost-effective, offering you a strong ROI and staying within your budget.
The unfortunate reality is that most of these factors are in tension with one another – an improvement in one area often means a tradeoff in another. No business telephone systems are ideal for every business in every context; each company must examine its own needs and choose the system that best matches its priorities. These conflicting pressures can be broken down into three dichotomies:


Common Phone System Problems:
Reliability vs. Adaptability
The ability to depend on their business phone systems is fundamental to the success of most businesses; if your phones go down, you're cut off from the clients and customers you serve. Even a brief interruption of service can be costly for your company, and a lengthy one can be devastating. At the same time, it's vital for companies to be able to update their business phone systems, whether with technological upgrades in response to new innovations or by expanding their network as their company grows.
These two needs conflict in numerous ways. The most basic is that many types of business phone systems, including VoIP telephony, uses your internet connection to function. If your connection is interrupted, whether due to a problem with your internet provider or because of a power outage, you lose your phone service as well. Traditional POTS (plain old telephone service) systems didn't rely on electricity to function, so your phones would keep working in a blackout. VoIP systems offer less expensive phone service with a wider array of features, but lack this low-tech reliability.
Similarly, using a premise-based phone system with licensed software allows your company to control all aspects of your communications system in-house. Not relying on other companies to maintain and protect your system is a major advantage – but with it comes the drawback of more difficult and costly upgrades.


Compatibility vs. Expansion
If your company is upgrading an existing system, you likely have hardware and systems in place such as voicemail, conferencing tools, headsets and other devices, and the like that would be difficult or costly to replace, making it advantageous to look for business phone systems that are compatible with what you already have. However, that restriction limits your company's ability to keep abreast of new technology and take advantage of the latest developments.


Up-Front Costs vs. Long-Term Savings
One of the greatest points of tension is cost. In some systems, such as hosted VoIP telephony, your monthly fees are likely to be fairly low. However, your business will continue to pay those fees month after month for as long as you use the service. This may not be a drawback, if you're trying out a new kind of service or feature, but as a sustainable solution, you will see a stronger ROI by purchasing the equipment and software necessary to run your phone system, paying a higher initial cost but only having to pay it once.
Even in choosing a hosted system, cost considerations must be made. While your instincts might be to choose the most inexpensive provider, the axiom that "you get what you pay for" tends to hold true. Cheaper providers may be unreliable, costing your business money when your phone service goes down. Due diligence is necessary here.