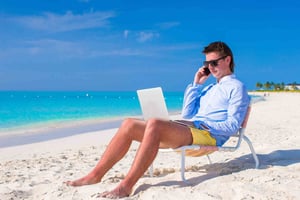 One of the many technologies that is slowly becoming obsolete happens to be regular phone
systems in the office. They are being replaced by powerful and robust VoIP, or IP-based, phone systems that can do so much more than a regular multi-line phone can. They can have multiple menus for different contacts, they have pre-installed features that any business can benefit from, and VoIP phone systems even have the ability to do video conferences with crystal clear quality from virtually anywhere in the world. Any business in today's market is going to benefit from VoIP, which is why it is imperative to know the advantages of having the best VoIP provider you can find.
What exactly makes a VoIP provider the best in the industry? There are some things, such as an unbeatable warranty and top of the line products for both small businesses and large corporations that should be included on any short list. However, before going into that, what are the kinds of advantages you can get when you decide to only use the best of the best? You may be surprised of the difference between a good VoIP provider versus the best VoIP provider.
Powerful On-Premise VoIP Systems
One of the several options available for businesses when it comes to VoIP is having either an on-premise system or one that is hosted remotely off the premises. Between these two, there are some pros to having your own system on site rather than relying on hosted VoIP. For example:
You can ensure everything is in working order and won't be frustrated over long down times because of a remote hosted VoIP. On-premises VoIP allows you to fix everything right there if it needs it. Also, this means you can update your equipment much faster without any unexpected surprises from the provider.

Overall, having the best VoIP provider to host systems, such as 8x8 Virtual Office, or the brand new Meraki phone system means being able to save more money both in the short and long term. You can have everything installed professionally at a low cost and then you won't have to worry about extra payments and fees.
This is one thing that separates good and best VoIP providers. It can be a matter of going over budget and having a system that runs the risk of being down while you aren't able to do anything about it, so make sure you choose wisely. There are other advantages to obtaining the best VoIP provider, though.

Expert Knowledge on VoIP Solutions
If you need help configuring and setting up the VoIP system, help with the software, or even need some guidance on the best VoIP products for your business, the VoIP provider can help with all of this and more with their expert knowledge. They will be able to tell you the differences in product lines and why one might be best for your business compared to another, such as better Quality of Service or the ability to have video and images sent via VoIP phones. Also, they can help with any questions you might have about the software and even show you the ropes of the software if needed.

You want to have the best informed decision when it comes to VoIP solutions, otherwise you might be stuck with overpriced technology that isn't working as efficiently for your business. That means lost time and money on your end, both of which are quite valuable for any company. Rather than having to deal with more questions, decide on working with only the best VoIP provider. You can have a robust phone system with all of the bells and whistles without having to pay so much for the VoIP services when you know where exactly to go.
In the market for a new small business phone system? Be sure to reach out to us,we'ld be glad to go over what's available and can even help you save hundreds on your monthly phone bill plusget up to $25,000 in networking equipment free.