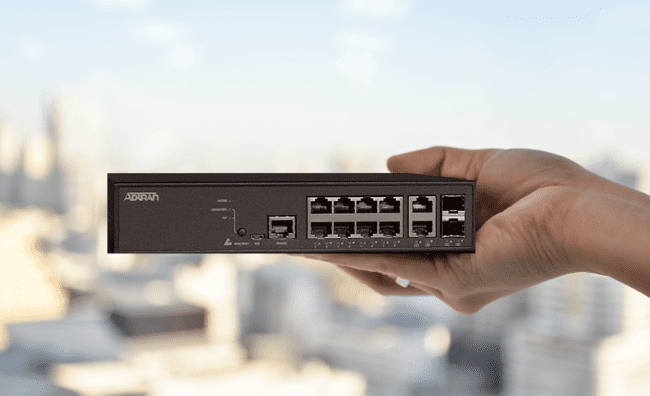 Adtran's NetVanta 1560 Series is purpose-built for enterprise networking needs. Their high-performance specifications support VoIP, cloud applications, and IoT, among other technologies. Their most apparent benefits include reliability, scalability, and ease of use. They're also notable for their high-bandwidth capabilities, functionality, multi-layer switching, and voice-aware features.
Why the 1560 Series is Best For Enterprise Networking
These switches have advanced qualities that allow convenient upgrades, from small businesses to enterprise networking solutions. They also enable fast and convenient enterprise communication through VoIP technology. Their GigE and SFP+ ports deliver a high uplink capacity of up to 80 Gbps to handle bandwidth-intensive tasks. They include video streaming, Wi-Fi, and HD voice connections.
The NetVanta 1560 Series simplifies VoIP deployments by assigning custom VLAN identifiers. Their flexible management options include Command Line
Interface (CLI) and Web GUI. They automate configuration by enabling DHCP out of the box. They also offer various tools to simplify troubleshooting, including network forensics, cable testing, and SFP diagnostics.
You can manage these networking devices remotely through ADTRAN's n-Command MSP platform. It can discover devices, make firmware upgrades, and enable mass configuration. The 1560 Switch Series also offers advanced redundancy and convergence solutions. It supports common Ethernet protocols, including Spanning Tree, Multiple Spanning Tree, and ERPS.
Product Specifications
The NetVanta 1560 switch series is available in 12, 28, and 48 port versions with optional PoE to power 802.3at or 802.3af-LAN devices. Their 10/100/1000 Base-T ports are compatible with the most popular networking standards. These Layer 3 Gigabit Ethernet switches enable fast internet speeds for your high bandwidth needs.
In addition to new installations, you can use them for network upgrades, as aggregator switches, and to power campus applications. Other specifications include:
Switching performance
The Adtran NetVanta 1560 Switch Series can accommodate up to 32,000 MAC addresses and 4095 LANs. It also allows non-blocking Layer 2 and Layer 3 switching with a maximum forwarding bandwidth of 176 Gbps.
Quality of service
QoS features include strict priority scheduling, eight hardware queues per port, storm policing, and weighted random early detection (WRED).
VLAN
The Adtran 1560 Switch Series can handle over 4,000 VLANs simultaneously. They
include port-based, voice, MAC-based, management, Q-in-Q, private, and protocol-based VLANs.
Security
Each switch in the 1560 Series allows network admins to set various user and privilege levels. They also offer 802.1x port authentication, IP source guard, DoS protection, Layer 2 VLAN client isolation, and DHCP snooping.
Physical features
Depending on their size and use, you can mount the switches on a desktop, wall, or rack. Their weight ranges from 4.63lbs (2.1 Kg) to 12.35 lbs (5.6 Kg). They also require a maximum power of 900 Watts and a PoE power of 370W & 740W.
Layer 3 support
The Adtran NetVanta 1560 Series supports two categories of Layer 3 Gigabit switches. The first is suitable for bandwidth-intensive applications, with a non-blocking switching capacity of 224 Gbps. The second type is the lite version with a lower capacity appropriate for SMBs and branch offices.
Diagnostics and status LEDs
Apart from cable diagnostics, it's easy to analyze port and flow mirroring, unidirectional link protection, and LLDP. The front panel LEDs display the Activity, Link, and PoE status.
Adtran offers a limited lifetime warranty, including phone support and advanced hardware replacement. All devices in the 1560 Switch Series are compliant with various regulatory and safety standards, including FCC, IECS, RoHS, and RCM.
Conclusion
At Hummingbird Networks, we provide the highest quality IT products and services. They include the Adtran NetVanta 1560 Switch Series, which offers convenience, scalability, security, and simplicity. Whether you run a small, medium, or large enterprise, we have the right networking solutions for your organization. Apart from free shipping, we also offer same-day processing for eligible purchases. Place your order today to enjoy these benefits.