DOWNLOAD YOUR FREE BUYER'S GUIDE HERE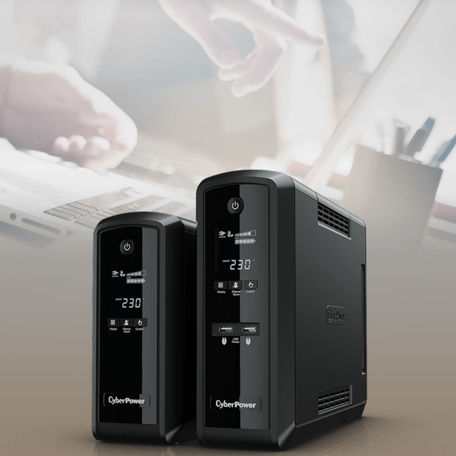 While we can't choose when power events occur, we can choose to be prepared for them with an Uninterruptible Power Supply (UPS) System. A UPS is a battery backup power system that supplies power long enough for equipment to stay running when utility power fails or shutdown safely during longer outages.
CyberPower's power protection offers the most comprehensive features and specifications available. They lead the way in energy efficiency, LCD functionality, and battery management technology. Protect sensitive electronics and equipment during power events with a UPS system from our extensive line of battery backup solutions.
CyberPower UPS Systems provide the backup needed to keep workstations operating during brownouts and enough runtime for the graceful shutdown when necessary. This complete guide will cover all of the various UPS Systems that CyberPower offers, their features, best use cases for each, and why CyberPower should be chosen to be your power protection provider.
Protect sensitive electronics and equipment during power surges and blackouts with an Uninterruptible Power Supply (UPS) system. Some key features include sine wave output, energy-saving design, data-line protection, and power management software. Ensure network uptime with power solutions from CyberPower UPS power protection devices.
Business depends on reliable power for the integrity and efficiency of its operations. Rely on CyberPower for power solutions to ensure peak performance and continuity across every level of an organization. Save time by getting the right power products that fit your IT infrastructure and environment.
Read the complete guide on CyberPower's UPS Systems to see why CyberPower is the best choice for your power protection needs. If you have any questions, please reach out to one of our networking specialists!
Discover the Business UPS system to fit your needs and budget.