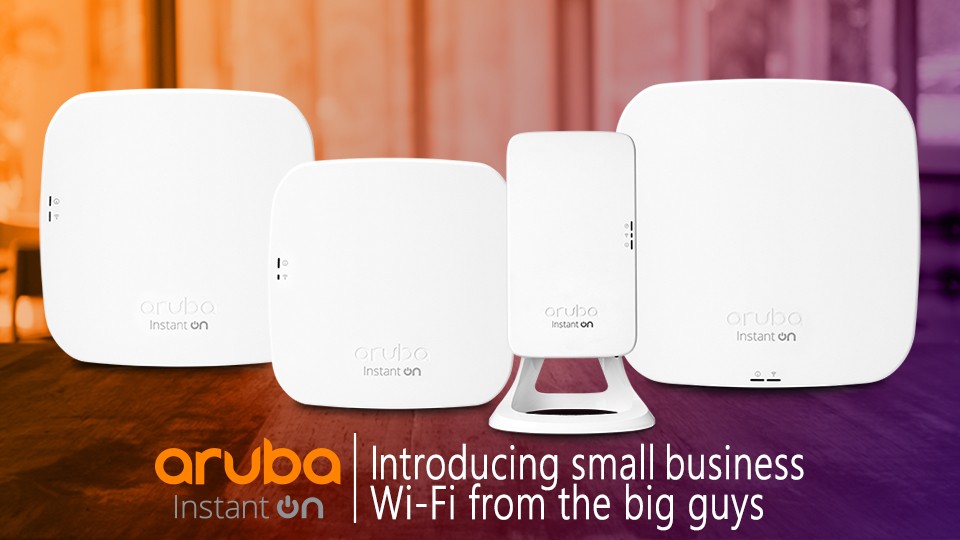 Many SMBs face major challenges when it comes to maintaining their networks. It's inarguable that any customer-facing business today needs a robust WiFi network with guest access features, and that network also needs to be safe and secure from intrusion. However, for smaller businesses, it can be difficult to afford both the hardware and the expertise needed to manage it.
This has caused something of a rush to produce cheaper and easier-to-use APs targeting SMBs, and now Aruba (a division of Hewlett-Packard Enterprise) is throwing their hat into the ring with an impressive series of offerings called Aruba Instant On.
Let's take a look.
What Is Aruba Instant On?
Aruba Instant On is one of the easiest-to-use 802.11ac Wave 2 (and assume .ax WIFI 6 is on its way) WiFi solutions to hit the market, and makes a strong case for adoption among smaller operations in need of enterprise-grade WiFi.
The hallmark of Instant On is the extent to which it simplifies initial setup of a network. All the owner has to do is place one or more Instant On access points around their place of business, then download a free app for either iOS or Android. That app handles all other configuration, through a series of
simple questions. No previous networking experience is needed - anyone who's comfortable working a smartphone can quickly set up a powerful network.
Another valuable feature of Instant On is its smart mesh technology. As you add extra APs to your location to increase coverage, they automatically talk to each other and ensure a strong connection anywhere within range.
Once the network is set up, it's also just as simple to monitor and oversee. The same app allows you to get a full overview of your network and the traffic on it. You can set access privileges, and make sure no unauthorized activity is going on. The Instant On network helps out with built-in security, and automatic firmware updates.
In short, Instant On is genuinely one of the easiest networking solutions yet seen.
The Initial Lineup Of Aruba Instant On Products
As of launch, there are five options in Aruba Instant On access points, with capabilities to match any SMB need. Better yet, Instant On is highly affordable, even for the fastest models.
At the time of this post (check back for additional models later):
AP11 - The entry level model, with a 2x2 antenna array, and a maximum throughput of 1167 Mbps. Recommended for up to 50 users.
AP11D - The AP11D features the same stats as the AP11, but rather than a wall/ceiling unit, it's in a desktop form factor for easy portability.
AP12 - The mid-range option, balancing price and performance. It featueres a 3x3 antenna array, with up to 1600 Mbps throughput and support for 75 users.
AP15 - The top of the lineup, with a 4x4 antenna and 2033 Mbps to support up to 100 users. Great for small businesses with big data demands!
AP17 - A rugged outdoor model, which can function in temperatures from -40° C to +55° C (-40° F to +131°F), while still providing 1167 Mbps.
Finally, if you're concerned about licensing fees, don't be. Unlike many similar automated networking solutions, Aruba Instant On is a one-and-done purchase. There is no need for additional licenses or any recurring payments to take advantage of all its features - adding to the value for SMBs on a budget.
Hummingbird Makes Networks For Businesses Of All Sizes
We believe you shouldn't have to be a large business to get a great high-speed network, with the security you need to keep your data safe. No matter your budget, we'll work with you to develop a strong networking solution. Contact us directly to learn more!