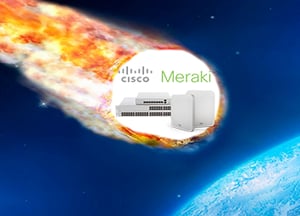 We've commented before on the meteoric rise of Meraki to become one of the most popular new options in networking at both the low and high ends. One of the main reasons for that is their continued commitment to expanding their line at both ends, looking to grab more customers with a wide range of needs. Let's take a deeper dive, shall we?
With the new MS425-32 Layer 3 switch, they've pushed the high end even further. This is their current top-of-the-line aggregation switch, aimed squarely at large-scale organizations, hospitals, universities, school districts, and service providers. It provides bandwidth which is nearly unparalleled, and with an ease of use that goes far beyond the other high-end networking options.
For those that see Meraki as mostly for mid-size organizations, this Meraki switch makes a strong argument for even the largest of groups to make "the switch".
Meraki MS425-32 Review
From our experience with the MS425-32, two words come to mind: more bandwidth.
This switch features two QSFP+ ports running at 40Gbps each, along with thirty-two 10-Gigabit SFP+ ports. This gives it a total switching capacity of 800Gbps, and those SFP+ ports ensure downstream hardware and apps have all the individual bandwidth they need as well. If needed, up to eight individual ports can be linked together (LAG) for greater bandwidth service.
The MS425-32 features easy expandability as well, thanks to its physical stacking capabilities. Up to eight units can be stacked together for significant expansion of capacity with included stacking cables. This is an option that can easily grow alongside the needs of your organization quickly and smoothly, with no significant disruption of service.
The switch includes standard services one might expect, such as QoS services for VoIP, DHCP services, and packet snooping options. However, for the most part, it leaves heavy packet processing and multi-functionality to downstream devices. It's uncluttered and focused on its core job.
And we can't talk about a Meraki device without highlighting how simple they are to use. The prospect of implementing high-end edge networking hardware can be daunting to any administrator, since that generally means a lot of work in setup and maintenance. However, the Meraki streamlining is in effect, even in their top-grade equipment. The MS425-32 is no harder to administer than a simple user-level access router.
Thanks to the Meraki Dashboard the switch is largely self-configuring. It features zero-touch deployment, and smart automatic optimization protocols. It's a high-end switch that could still be described as "plug and play."
A single GUI handles all day-to-day configuration and operations, giving oversight of the entire Meraki network from the big picture down to granular app-level usage data. Automatic error reporting and historical data tracking ensure the admin is always "in the loop" and aware of what's happening on their network at every level.
Meraki Gets Bigger and Better Every Year
For a brand that was practically unheard-of just a few years ago, it's truly impressive how quickly Meraki has turned the networking world on its head. Today, a startup could begin with a single Meraki switch or WiFi Access Point, and steadily grow to truly large-scale operations without ever needing another major rework of their network setup. Meraki allows users to simply add on new devices, as needed, and have them work almost instantly.
With this switch, existing networks can now grow a step larger yet, while still maintaining complete ease of use. For those who've been growing alongside the brand, it will keep them moving onwards into the future of networking.
If you haven't seen Meraki in action for yourself, just contact Hummingbird Networks to discuss a free, no-obligation, in-office trial!