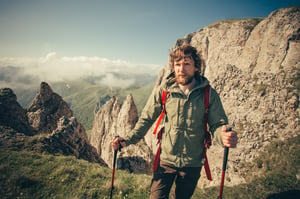 In the past couple years, we've become increasingly impressed by the product offerings coming out of Meraki. This Cisco-owned brand has become one of the true trailblazers in next-generation networking, and their new MR53 Access Point keeps that trend going.
We've gotten our hands on the first public units, and the initial results are very, very impressive. As of writing, this is easily the most advanced 802.11ac Wave 2 access point on the market, and one that may convince a lot of larger organizations that it's time for a WiFi upgrade. If your own employees and\or customers are demanding more robust wireless options, read on to see how the MR53 changes the game.
Wave 2 - The Right Way
So what makes the MR53 access point different? In a word: Speed. With most wireless networking equipment struggling to keep up with the rapidly-increasing bandwidth demands of users, the MR53 does a lot to satisfy those demands.
It features a full 4x4 MU-MIMO array, at 160mhz, utilizing both 2.5ghz and 5ghz radios. These are fed by two Ethernet uplinks, one a standard 10/100/1000 Gigabit port, and the other a next-generation 2.5Gbps Multigigabit port. The end result is an AP which can broadcast up to 2.5Gbps simultaneously. A combination of smart bandwidth-hopping, beamshaping, and robust roaming options to give mobile users the smoothest possible experience as they move around a site.
Two more radios add further functionality. One is dedicated to oversight and analytics. It provides 24/7 automatic wireless intrusion detection and prevention capabilities, automatically alerting an administrator of any possible problems while moving to block them. You also get full diagnostics on usage, including minute-by-minute user location tracking. This can be invaluable for understanding real-world usage of your network, as well as seeing the movements of customers around a retail space.
The fourth radio is a standard low-power Bluetooth beacon, providing robust site-wide messaging options. From paging individual users to broadcasting information about sales promotions, it brings additional flexibility to business users. Bluetooth beacons aren't huge yet, but will be.
The AP also integrates a truly superior firewall, with Layer 7 app awareness along with the standard stateful firewall protections. Between the firewall and the WIDS\WIPS systems, there's probably no other AP brand on the market that's more ready for the challenges presented by all the thousands of user-side apps that may be utilized across your network.
Plus, like all Meraki products, it makes full use of the Meraki Dashboard for single-pane-of-glass oversight. Admins have extensive power to oversee and regulate network usage, including the ability to shape or restrict traffic on an app-by-app basis. The Meraki cloud network has a database of thousands of apps it can identify, with more added every day, giving admins unparalleled ability to control the network.
There's very little we can say against the access point, and these are common complaints involving Wave 2 equipment as a whole.
First, to get top performance from the AP, 30W 802.3at PoE power is required. It won't function as well if connected to older 802.3af 15W systems. There's also an option for A/C power, but the MR53 adapter costs extra. Call it a downside...not sure...but all Wave 2 that we have seen needs 30w. More power needs more power you can say!
Also, keep in mind that Wave 2 equipment often needs other Wave 2-compliant devices to get full functionality. Older 802.11 client hardware may be restricted to <2Gbps speeds.
And, of course, like all Meraki hardware it requires licensing to operate at all, since it relies on cloud-based connections. However, keep in mind that Meraki licensing also carries a true lifetime warranty including hardware replacement and 24x7 tech support, so it's generally less expensive than other brands' extended warranties.
Beyond these minor issues, this Meraki AP truly is the top-of-the-line in high-end WiFi at the moment. If you have a business that's in need of seriously robust WiFi that can support a lot of users, this access point may be for you. Contact Hummingbird Networks for more information and a FREE TRIAL.