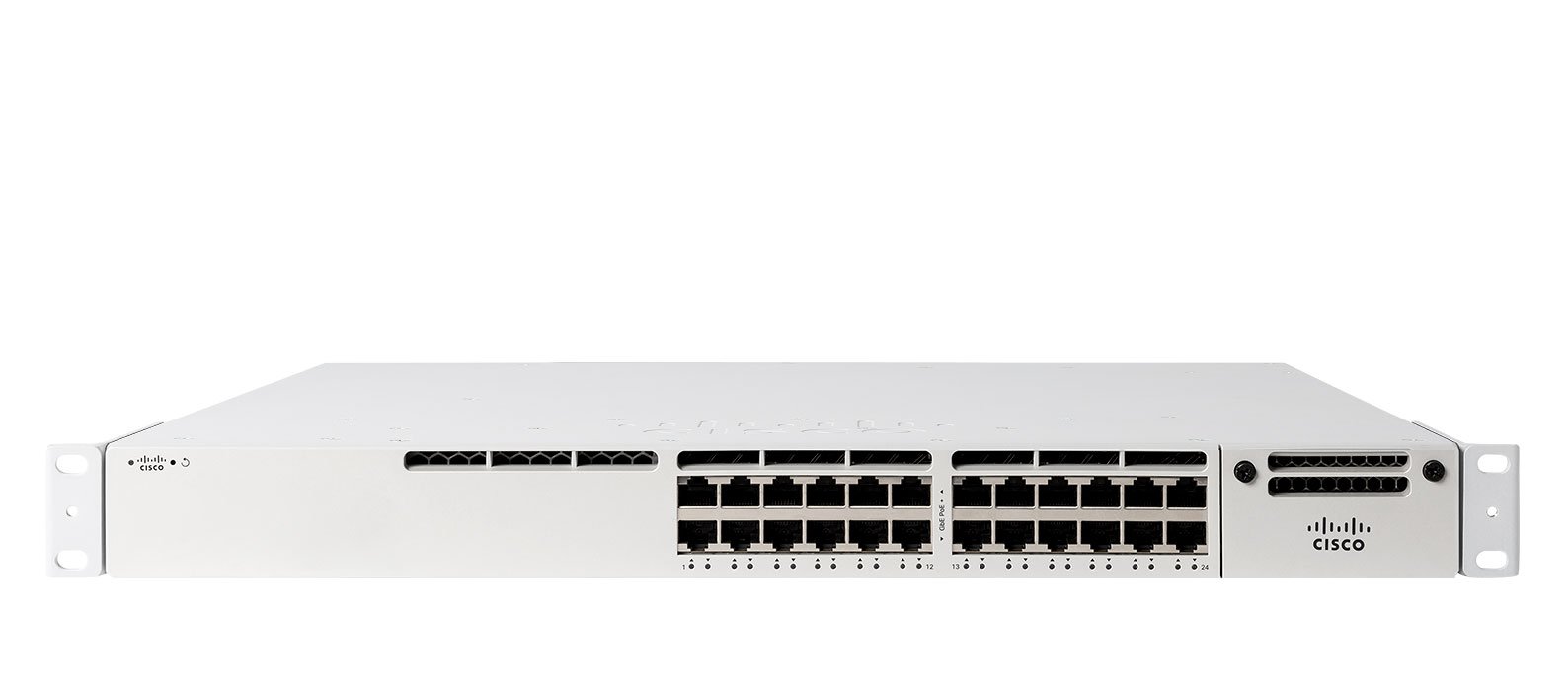 The data needs of the largest enterprises continues to grow, demanding more powerful switches capable of handling ever-larger amounts of bandwidth. From increased reliance on IP-based communications, to greater usage of Internet of Things devices, to rollout of the newest and fastest WiFi standard - WiFi 6 - companies are once again feeling pinched for data.
The new Meraki MS390 series of switches aims to address these needs with the most powerful networking hardware yet introduced by Meraki.
Featuring 10/40Gb modular uplinks, multi-Gigabit Ethernet connections, large banks of PoE power, and robust stacking capabilities, MS390 have the power large enterprises need today - and the scalability to meet tomorrow's needs as well. With a range of sizes and capacities available, there are MS390 switches for even the most demanding of use applications.
The other major differences, and in our opinion - the best features finally arrived in a high end Meraki switch:
A. Stack-Power (share/borrow power from other MS390 (and probably future series) switches. A must for large PoE+ and UPoE environments.
B. Adaptive Policy (micro-segmentation of users to simplify security and access policies)
C. Modular Uplinks (swap out from a 10G to 40G in the future)
D. Cisco Silicon (Built on the similar technology of the Cisco Catalyst 9K Series of switches) aka Cisco's own chip set.
E. Simplified license model (yes only 2 choices per switch- Enterprise and Advanced.
F. Improved Physical Stacking (Faster-stack convergence in case of failover, higher stacking bandwidth)
Depending on the model you choose, features include:
24 or 48 ports
1Gb, 2.5Gb, or 5Gb Ethernet connections
10G or 40G uplinks
PoE+ or UPoE, or no power option
Stacking capabilities up to 480Gbps
Max switching capacity up to 640Gbps
Hot-swappable power sources and\or fans
In addition, you get a wide range of expected standard features. Advanced QoS services with 8 separate queues keep your most critical applications running smoothly. Discovery protocols allow for detailed tracking and observation. Role-based access control and adaptive policies keep you protected.
Yet, even these top-line switches remain easy to use, thanks to Meraki's fast and intuitive software systems. As with all Meraki devices, they feature zero-touch deployment, instantly self-configuring and adding themselves to your Meraki Dashboard. Creating robust security policies, monitoring usage, and running detail reports remains as fast and simple as ever.
Meraki continues to push the boundaries of switch capacities, without compromising the simple operations and administration they're known for. To receive a full consultation on the new Meraki MS390 series switches, just contact Hummingbird Networks.