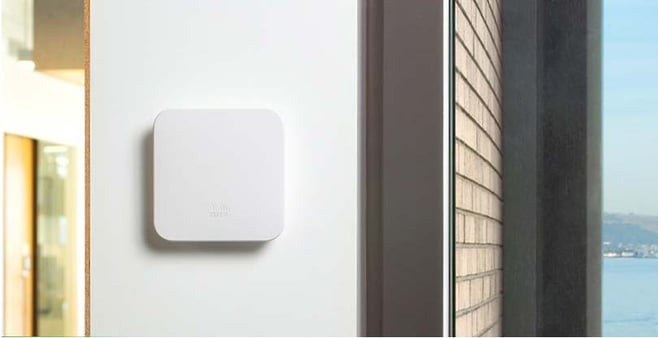 The Meraki MG21 and MG21E cellular gateways provide an easy and convenient way to leverage cellular Internet connections in a variety of situations. They simplify implementation of wireless WANs running from cellular uplinks, directly converting the LTE cellular signal to an Ethernet handoff for downstream devices.
MG21-series cellular gateways feature a 300 Mbps CAT 6 LTE integrated modem, along with two separate Ethernet ports for downstream connections. They can be powered via either DC power or Power-Over-Ethernet, increasing their deployment options. In addition, their small form factor combined with IP67 water and dust resistance means they can be placed almost anywhere, indoors or out.
These small, rugged devices can be useful in a wide variety of usage cases. For example:
Implementing network access at a location that lacks wired Internet uplinks
Setting up the MG21 as a failover device for critical connections, in case the primary Ethernet connection fails
Expanding a High Availability network to include additional connection types
Utilizing Meraki MX series firewalls in locations where cellular signals are stronger than WiFi or other options
Quickly adding Internet access to POS kiosks, trade shows, and other locations with crowded central Internet sources
The MG21 and MG21E are identical in terms of specifications. The only difference is that the MG21E features external antennas for better control over the reception.
Whichever you choose, the MG21 or MG21E integrate directly into your Meraki Dashboard, alongside all your other Meraki devices. They feature the same zero-touch configuration, and all traffic flowing through them can be monitored and reported on, as with all other aspects of your Meraki network.
In short, not every Meraki network needs an MG21 or MG21E cellular gateway - but if your design calls for cellular failover, or edge-case Internet access scenarios, they are a quick, reliable, and powerful way to provide WAN access over LTE.
To learn more about the full range of Meraki networking devices, just contact Hummingbird Networks!