The obstacles that block IT groups from providing end-user satisfaction can seem endless. That's why Cisco Meraki has released Meraki Insight, a software upgrade that monitors and quantifies all the moving parts. Here are three components of Insight that bring simplicity to end-user optimization:
1. Meraki Insight's technology transcends networks and applications beyond the LAN to isolate problems.
Insight's…insight reduces the amount of time it takes IT administrators to identify the source of problems. It also allows IT professionals to recognize issues before end-user complaints come trickling in. The upsurge of cloud-based applications and SaaS adds a new layer of complexity to the average IT professional's day, but Insight simplifies that.
2. Customizable thresholds can be assigned to each application.
Meraki dashboard, loved for its intuitiveness, will expand with the Meraki Insight license to make all web-based applications (HTTP and HTTPS) visible alongside hardware. For each application, you can specify acceptable performance thresholds. The system will then monitor these thresholds and assign an Application Performance Score based on how often they're adhered to, reporting on an app-by-app basis. The score is based on several factors, but Per-Flow Goodput and Application Response Time are primarily relied upon.
3. Enlightening analytics are collected every step of the way.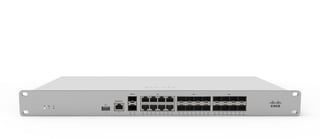 Through the use of a Meraki MX-series security appliance and the new corresponding Meraki license, data is gathered via Deep Packet Inspection, similar to that used in Meraki Advanced Malware Protection and Intrusion Protection systems. This allows IT administrators to consider activity over time and to predict future issues that will impact the end-user experience. Troubleshooting no longer has to be on the offensive. With the data provided by Meraki Insight, a defensive plan can be established.
Couldn't We All Use More Insight?
End-user optimization is now coupling with the characteristic ease of Cisco Meraki technology. If your business has its head in the cloud, Insight could be a lifesaver.
If you want to know more about Insight, or you're interested in seeing what Cisco Meraki could do for your company, contact Hummingbird!