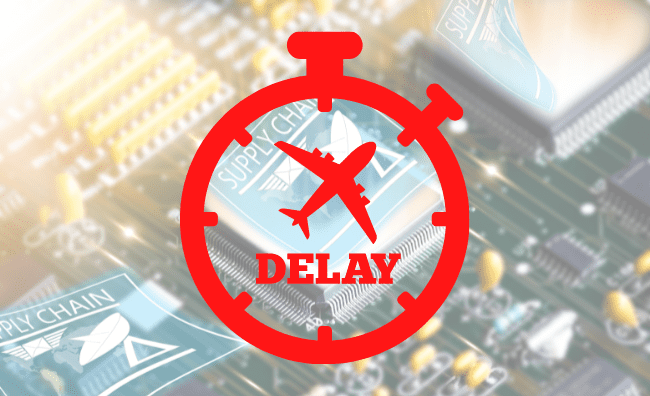 The pandemic has affected everyone in different ways. Some businesses have had to make tough choices, like reducing their workforce. Others have adapted by implementing new health and safety policies, like wearing masks and frequently sanitizing. Almost every organization has had to change the way they operate, and many people have had to adjust to a "new normal." This shift has caused an IT supply chain shortage. To keep your business operating at peak efficiency, there are several steps you can take to avoid product shortages and downtime. In this article, we'll share how to do so.
What's Causing the Ongoing Stock Issues?
Early in the pandemic, there was a significant impact on manufacturing and shipping, as suppliers struggled to allocate stock for essential businesses. It was obvious to companies and consumers that items you could usually obtain quickly were no longer available at all.
A global shortage of semiconductors has resulted in inventory issues. Semiconductor chips are vital components of all modern electronic devices and appliances. Chip manufacturing is a highly specialized industry dominated by only 3 major players. As foundries had to shut down in compliance with the restriction, they depleted most of their inventory. When countries started easing restrictions, these manufacturers couldn't suddenly ramp up
production, which created a massive backlog. Once up and running, multiple variants of COVID shut down manufacturing overseas many times, and each shut down created delays and a snowball effect. Most electronics are made in China, Taiwan, and Mexico, and those countries have very strict COVID protocols and return to work rules, which added to the delays repeatedly.
Not only have shortages and labor contributed to the problem, but the increased demand in such a short time has also exasperated the problem even further. As manufacturing companies were scaling back production, demand returned almost overnight, with production still at 20%. Low production and increased demand equal major global supply problems like the world has never seen.
How to Survive & Thrive During the Supply Chain Shortage
It is essential to identify the life cycle of your technology equipment. Typically, network equipment may only need replacing every 5-7 years. It is important to document each device's expected lifespan and budget now for replacements next year. Planning months and even years ahead for replacement will help avoid rushed orders, increased prices, and other issues that can cause problems down the road. Plan, and plan for the next year into the summer of 2023, if possible.
Maintain your devices on a regular basis. Automate patching, backups, and daily maintenance by using the proper tools to ensure peak efficiency. Create a Disaster Recovery and Business Continuity Plan to cover failure of equipment. Include steps to remediate if a failure happens in your Business Continuity Plan. Businesses should also consider standardizing their configurations as much as possible to streamline the rollout and maintenance of devices like switches, laptops, or wireless access points.
How Hummingbird Networks is Helping Customers During the Shortage
To help our customers get the products they need, we are now accepting pre-orders from popular products that aren't in stock due to global component shortages. The fastest way to get this would be to place a pre-order. The pre-order process requires each customer to place an order as they normally would (which means full payment is needed upfront as per manufacturing contracts with the top vendors) and we ship the order as soon as it becomes available.
Pre-ordering with us guarantees that you will be one of the first people in line to get it as soon as stock is available to ship. If you are not part of the pre-orders, you may be waiting indefinitely for the product to return in stock, only after the pre-order orders are filled first. Most companies have gone to the pre-order system since early 2022 to guarantee your place in line.
Exploring Alternative Products
Alternatively, we can help our customers look at possible options from other brands with similar specs. So, if you would like we will work with each
customer through the presales engineering process to identify alternative options for their consideration. Typically, there is no charge for this service. Those options may be in stock or may have shorter lead times.
*Note: The global constraints are affecting all sellers of genuine manufacturer equipment, so no matter where you go to purchase these products, the shortages will affect lead times and delivery.
Gray Market
Some customers that are desperate for equipment may turn to the gray market to fill their needs temporarily. Gray market products are products that are not sold by an authorized dealer or reseller for a particular brand. Products may be used, sold second-hand, counterfeit, or even stolen gear. Buying such gear will not be eligible for warranty and/or support and often can even create a security breach into the network, which we all know can cause many problems and cost 100x the amount of buying the products through authorized channels. Although we understand that business must go on, and it's tempting to go to unauthorized retailers or an online marketplace to get the equipment, one should be very cautious when doing so. We always suggest that you ask the retailer to show proof that they are authorized to sell the product. If you are second-guessing yourself as to why a retailer that you have never heard of is either much less expensive than others or even how someone can have the product in stock when the entire world is out, should throw a red flag and is most likely illegitimate and you should steer clear.
Conclusion
Despite the IT supply chain shortage, we're all facing, you can take steps to ensure you have enough supplies on hand. By putting together, a solid strategy and budget for next year, you can hopefully order what you need in plenty of time, avoiding downtime and inconvenience.
We're doing everything in our power to help our customers combat the current issues. At Hummingbird Networks, we prioritize every new batch of inventory towards fulfilling pre-orders and backorders. You're more likely to receive your item faster if you complete an order, even if it's currently out of stock. You may also add it to your Wishlist to promptly purchase it once we restock. Contact us for more details.