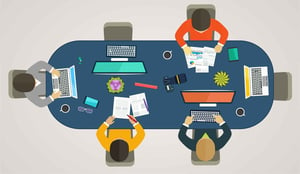 Let's be honest: Unless you've specifically prohibited outside devices, your workplace is probably already a Bring-Your-Own-Device environment. In just a few years, people have become so reliant on their smartphones and tablets throughout their day that the idea of NOT bringing them to work is practically unthinkable.
This, of course, has put a lot of new demands on IT staff dealing with BYOD. There are undeniable security issues, as well as training to be done, and the ever-present question of employee privacy and app restrictions in BYOD policies. In general, it's been a headache for admins.
However, Meraki has a new approach! Thanks to their cloud-based mesh networking systems, Meraki mobile device management offers a far easier solution while still properly balancing security with privacy.
If you're having trouble making BYOD work at your business, it may be another sign you should look towards Meraki solutions.
How

Meraki

Mobile Device Management Makes

MDM

Easy
1 - All devices managed in one place.
Most MDM solutions require having a master list of devices in use, but that's not the case with Meraki. A Meraki network can identify every device connected to the network at any time, from laptops to smartphones, including details such as model number, OS version, and physical location.
When those devices are fully registered (with their users' permission) with the system, traditional MDM operations such as remote locks or wipes become possible.
2 - Highly granular device and app management.
Every device AND every app on those devices can be managed separately via Meraki mobile device management, thanks to their database of thousands of recognized apps. Security policies can therefore be as global or as local as needed. Got one guy who just can't stay off Facebook, even though you don't want to ban it globally? Keeping him off it isn't an issue.
3 - Simple app installation for Android devices.
Within the Meraki Dashboard, you can set up "backpacks" full of apps that should be on an employee's Android device, which are both installed and kept synced with the master copies. These can be delivered instantly the moment a worker logs in, or delivered live to thousands of people at once.
There's no easier way to ensure everyone has the same necessary apps and with the proper versions.
4 - Full robust analytics.
A BYOD breakdown within the Meraki Dashboard gives tremendous insight into BYOD usage within your facility. OS used, bandwidth consumption, percentages of users... You get an at-a-glance overview of every major statistic regarding BYOD, giving you even more data to implement smart and secure policies.
5 - Automatic endpoint configuration.
One big challenge with BYOD is simply getting everyone onto the network who needs to be, without compromising security. Merakihas a simple solution to this: All necessary WiFi connection information can be pushed directly to the end device of a registered user, eliminating any need for the user to configure it manually.
This isn't just a matter of convenience. It means an end user may never even see the password being used to log in, which makes it far more difficult for them to accidentally give it away.
Meraki Revolutionizes Modern Networking
Robust Meraki mobile device management options are really the tip of the iceberg, when it comes to Meraki innovation. It's easy to see why Meraki is starting to take business networks by storm: There's simply no other solution on the market that's as easy, flexible, and scalable as Meraki.
Want to try Meraki for yourself? Hummingbird Networks can arrange a free in-office trial of Meraki access points. Just contact us for the details.
See how the use of smartphones have impacted our daily lives in the infographic below-