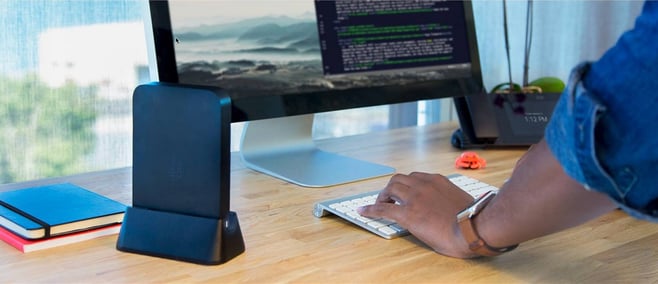 The oddball member of the Meraki MX family just got a new sibling.
We've written before about the Meraki Z1, which is easily one of the most unique pieces of networking hardware we've seen come out of a major brand. The Z1 was designed to provide network access and security to telecommuters and other remote workers, while still having all the benefits of Meraki connectivity. It was an extremely impressive device, with all the features packed in...but now there's even better.
Well, it's now officially the Z-series, because Meraki has just released the new Cisco Meraki Z3 Telecommuting Appliance. It's an upgrade to the Z1 in nearly all respects and, like its predecessor, offers an incredible amount of usage flexibility in a tiny desktop-sized package.
A First Look At The Cisco Meraki Z3
Functionally, the Meraki Z3 is nearly identical to the Meraki Z1, although most of its core attributes have been given major boosts.
The Z3 now supports 50Mbps VPN connections (vs 10Mbps on the Z1) as well as upgrading the firewall to 100Mbps over the previous unit's 50. Additionally, its security has been upgraded to include 802.1x port authentication. These improvements alone would make it worth considering. It still has the same port arrangement as the Z1, with a one-Gigabit uplink and four separate Gigabit Ethernet ports, as well as the USB port for failover cellular connections.
However, the really impressive upgrade is in the WiFi. Rather than the previous unit's 802.11n radio, the Z3 gets a full 802.11ac Wave 2 antenna array with a maximum speed of 1Gbps. It's now as fast as a dedicated standalone access point.
Oh, and it has a convenient vertical desk stand to save desk space (optional purchase).
What this means is that a really nice device has become a really great device. No other Meraki appliance packs so many features in, much less in such a tiny package. This is truly a network in a box, and viewing it merely as a telecommuting appliance may be a mistake. The Z3 can literally take your Meraki network anywhere while still being fully managed and overseen by the Meraki Dashboard back in the home office.
Or, like its predecessor, it could easily be a standalone all-in-one connection device for a home business or "mom and pop" style small business. It is meant for truely that. That is why, like the Z1, the advanced security license is not offered. It can run inside a network that has other devices with those advanced security licenses however. If you need the advanced security license- you should consider the MX64 or MX65.
In short, Meraki continues to impress us with the range and thoughtfulness of their offerings. The Z3 is a great little device.
Have any questions about Meraki or want a free trial of th Meraki Z3? Contact Hummingbird Networks- we're the Cisco Meraki experts.