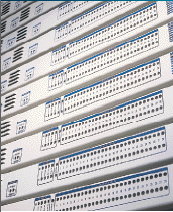 Adtran MX2800 M13/STS-1 multiplexers offer carrier-class performance at an affordable price (and with a surprisingly small footprint). Able to combine multiple T1 and E1 lines into a single T3 connection, the MX2800 multiplexer offers a versatile range of potential applications. Duplicate, hot swappable controller cards provide a 1:1 redundancy for the T1 and T3 signals (along with the T3 connection itself).
Configuration, loopbacks, and performance monitoring are easy to achieve, as administrators are given the full range of options in that regard. SMNP and Telnet support are provided using SLIP/PPP or the 10baseT ethernet port. A VT100 terminal interface connection can be had through ethernet, a local EIA-232 link, or the on board V.34 modem.
Benefits of the Adtran MX2800
The Adtran multiplexer is designed to suit a wide range of applications:
BackHaul Traffic Between Central Offices - Competitive Local Exchange Carriers (CLECs) often deploy voice and data services from co-locations within central offices. The MX2800 allows these service providers to backhaul that bandwidth back into their network.

Consolidating a T3 or DS3 line - The Adtran MX2800 can dramatically lower monthly operating costs of a network by providing designers with a wide range of options regarding how to distribute and consolidate bandwidth within a large network. The full-redundancy features of the multiplexer mean that efficiency and cost-effectiveness can be prioritized without giving up consistency of performance.

Consolidating T1 and DS1 lines onto a T3 - This is the flip side of the previous application, whereby the MX2800 allows network designers to combine up to 28 T1 or DS1 lines onto a T3 or DS3 line - again providing a wider range of implementation options which allows for consistent performance with the most efficient design possible.

Deploy E1 over DS3 or STS-1 - The MX2800 incorporates the G.747 standard, which regulates transmitting E1 over DS3 and STS-1. Up to 21 E1s can be multiplexed on a T3 circuit (via seven DS2s), and network designers can also deploy T1s and E1s alongside each other in the same T3 circuit.

Traditional Multiplexing - The simple fact that a DS3 lease is generally less expensive than multiple DS1s makes it by nature a more cost effective solution for bandwidth deployment Usually, the price of one DS3 lease - which provides 28 DS1 lines - is
roughly equivalent to the cost of leasing six or seven DS1 lines. This means that a multiplexer is needed at the end of the high-rate optical connection to breakout the DS1 lines. The Adtran MX2800 is ideal for this application.
Whether an organization is a provider firm (such as CLECs) or a client firm with a large enterprise network (such as a University or corporate park), the MX2800 can be utilized to great effectiveness to provide the widest possible range of options in bandwidth deployment, distribution, and consolidation.
This creates dramatic benefits across the network design and implementation process, as well as ensuring optimal performance on a day to day basis, as well as significantly lowering monthly operating costs. It can not be stressed enough how big a difference this can make to network designers and administrators. Because the Adtran MX2800 frees them from the need to sacrifice efficiency of design in the name of reliable performance (through its redundancy features and bandwidth deployment options), they are able to craft and operate a network more in synergy with the needs of the carrier or client organization.