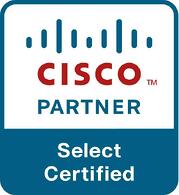 It's not easy to become a Auhorized Cisco equipment reseller, and for good reason!
Cisco, of course, has one of the biggest names in the networking industry. They're practically the IBM of networking: no one ever lost their job for buying Cisco. You don't get that kind of
reputation easily, and Cisco has built their reputation on two primary factors:
High quality innovative hardware designs which add features while decreasing TCO, and

High quality distributors providing great service and benefits for customers.
Cisco doesn't sell their products directly to the public, so it's vital for them to partner only with companies that they know can offer a superior level of customer service, repair, support, and advice to anyone looking to Cisco to meet their networking needs. Cisco equipment resellers are part of the Cisco branding and reputation, so they have to meet standards as high as Cisco's own.
Why Choose a Cisco Authorized Reseller?
As such, when you're looking for top-quality Cisco equipment resellers in your area, the first thing you should look for is Cisco's own stamp of approval. So, here's a quick look at the Cisco reseller system and why it means a guaranteed Cisco partner is the right choice for your business.
Cisco Certification Means Cisco Quality
Whenever you're looking for Cisco equipment, the first thing you should do is check their official partner index. If the company you're looking at isn't in it, tread carefully. There's a good chance that they don't have the official training and recognition needed to give you the support you deserve on your Cisco purchases.
Even then, however, Cisco has multiple quality levels within their reseller system, indicating the level of expertise of the reseller you're looking at.
Certifications: Cisco offers six separate certifications, depending on the size and market of the reseller. The most basic certification, Select Certification, is aimed specifically at resellers servicing small businesses. These grow in status until you reach the Global level, for distributors who have a worldwide reach in multiple continents.
Certifications don't simply indicate expertise, but also fit with different sizes of enterprise.

Specializations: Cisco also recognizes specializations in a range of fields, such as Wireless LANs, Systems Security, and Architecture. Specializations are one of the best ways for Cisco partners to distinguish themselves and demonstrate themselves as the superior options for customers facing specific challenges in their networking.
Cisco Recognition Brings Benefits
The other reason you should make sure to always choose an official Cisco partner is that you know they will always be kept up-to-date on the latest Cisco products, strategies, and technical support materials. Cisco partners have access to:
Continuing training through seminars, webinars, conferences and other learning programs.

Access to Cisco's own internal community of enthusiasts and experts.

Early notifications of upcoming product and software releases, giving them up-to-the-minute information to advise you with.
Official Cisco Partnerships: Accept No Substitute
When you're looking for Cisco equipment resellers, the single most important thing you can look for is official recognition from Cisco, which guarantees you get high-quality service to match your new networking hardware. If you purchase from an Cisco authorized reseller you're far more likely to receive the maximum return on your systems investment.