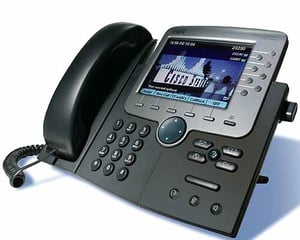 Like a lot of small-to-medium sized businesses, you might be thinking about moving towards a Voice Over IP (VoIP) solution for your telecommunications. VoIP gives you a lot of potential to expand, the ability to integrate your voice and data systems, and is often far more cost-effective than traditional copper wire telephony.
Now, we generally recommend that our clients go with an on-premise IP PBX system that allows them to do their own switching and use their own Internet service to power it. However, this does incur a higher cost early on, as well as requiring more active management of the system. For some SMBs, using a hosted service - at least when starting out - may be a better option.
If you're looking for a VoIP provider, there are a number of factors you should take into account. VoIP companies are a dime a dozen at the moment, so you need to research carefully before making any agreements.
Here are a few tips:
Finding the Best VoIP Providers For Your Small Business Phone Systems Needs
1. Know what you need. Before even beginning to look into VoIP providers, take stock of your current communications setup and look at its weaknesses. What new services do you need, not just for today, but for several years down the road? Knowing ahead of time what you need will save you from wasting time on products offering services that won't bring you any value.
2. Generally, you get what you pay for. Going with the lowest bidder for VoIP is rarely the right decision. After all, at the very far end of the scale, you have services like Skype, which are free, but have no real bells and whistles at all. No matter who you choose, you'll be able to get service for around $50 a month, or less, so don't limit yourself to the bottom of the price range.
3. Do they have their own network? Unfortunately, many VoIP providers advertise fast speeds but, in fact, simply send your phone calls through the same public Internet service as everyone else, leading to inconsistent service. For business needs, you want a VoIP provider with its own network so they can deliver reliable service. Having Quality of Service (QoS) guarantees is also a plus.
4. How well can you integrate voice and data? A future-proofed telecom system needs to be able to freely mix and match data types - for example, being able to have voicemail forwarded to email boxes as an MP3, or being able to access your mailbox through a mobile device while roaming. Don't go with a VoIP provider that only does voice; you'll be handicapping yourself for the future when considering other services besides IP Phone Systems.
5. Will it work with your existing equipment? One of the primary benefits of using a hosted VoIP solution is the
lower startup costs. Granted, sometimes you just have old equipment and plain need an upgrade, but if your phones are relatively recent, you should be able to find a provider who can work with them. If you have to buy a lot of kits up front, you're losing many of the advantages of a hosted service.
6. How easy is expansion? Finally, make sure your VoIP provider makes it simple and easy to expand your services on demand. Many have online portals that allow you to add, change, or delete features as needed, which is the best solution. With these, you can often add a phone line or similar expansions within a matter of seconds.
Old copper wire phone services are slowly going away, and VoIP is going to be the communications choice of the future for all IP Phone Systems. Now's the time to start getting onboard, so you don't get left behind in the days to come.
So, hosted or on-premise? Which VoIP solution worked better for your company? Tell us below!